My New Toy! 1988 Suzuki Samurai
11-17-2016, 03:02 PM
Senior Member
Join Date: Mar 2010
Location: Denver Co
Posts: 2,584
Likes: 0
Vehicle: 1999 Hyundai Tiburon
My New Toy! 1988 Suzuki Samurai
---
Still working on the Tib, but lately found a new project. It's been pretty fun and I got to reap some of the rewards this hunting season. Didn't bag an elk, but got some great 4 wheeling in! Here are some before and after pics...
Picked it up for 1000.00 bucks. The drive home was quite scary. Many home made suspension parts that were ready to fall off. Literally.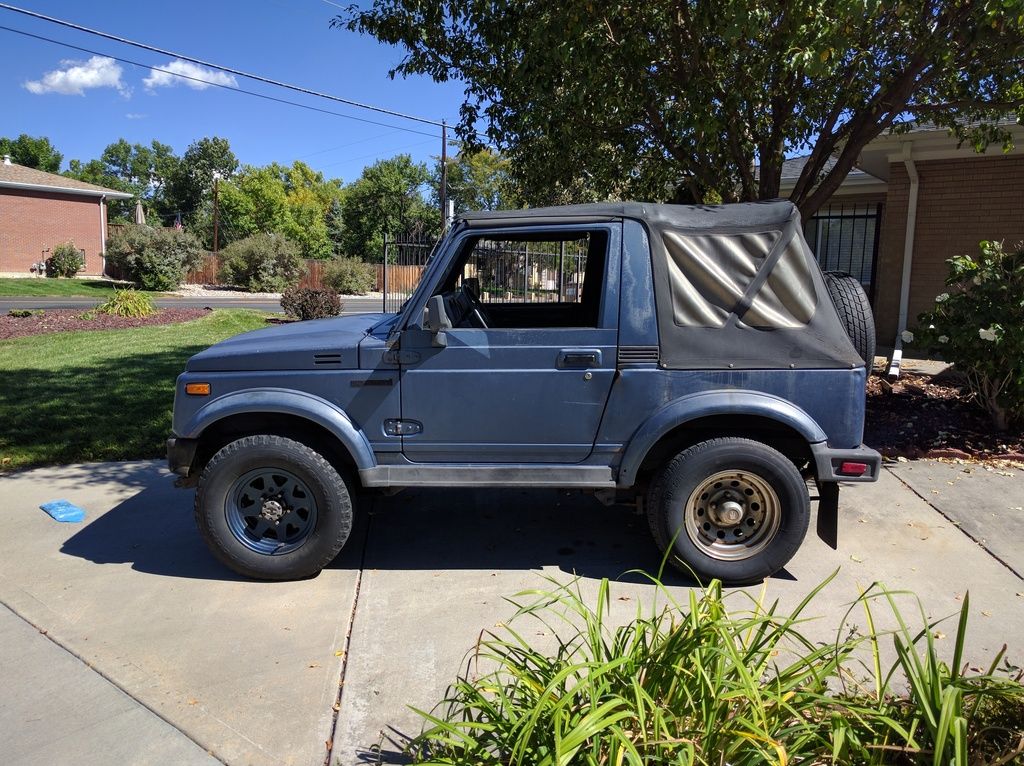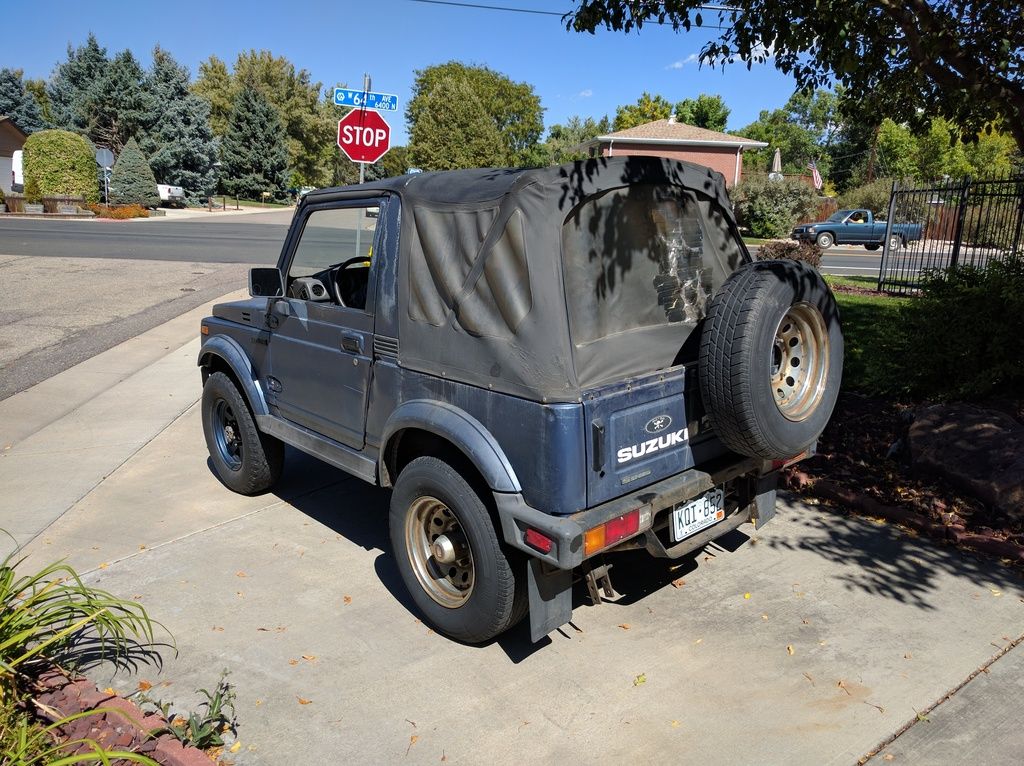 Here's a pic of the home made shackles. Scary....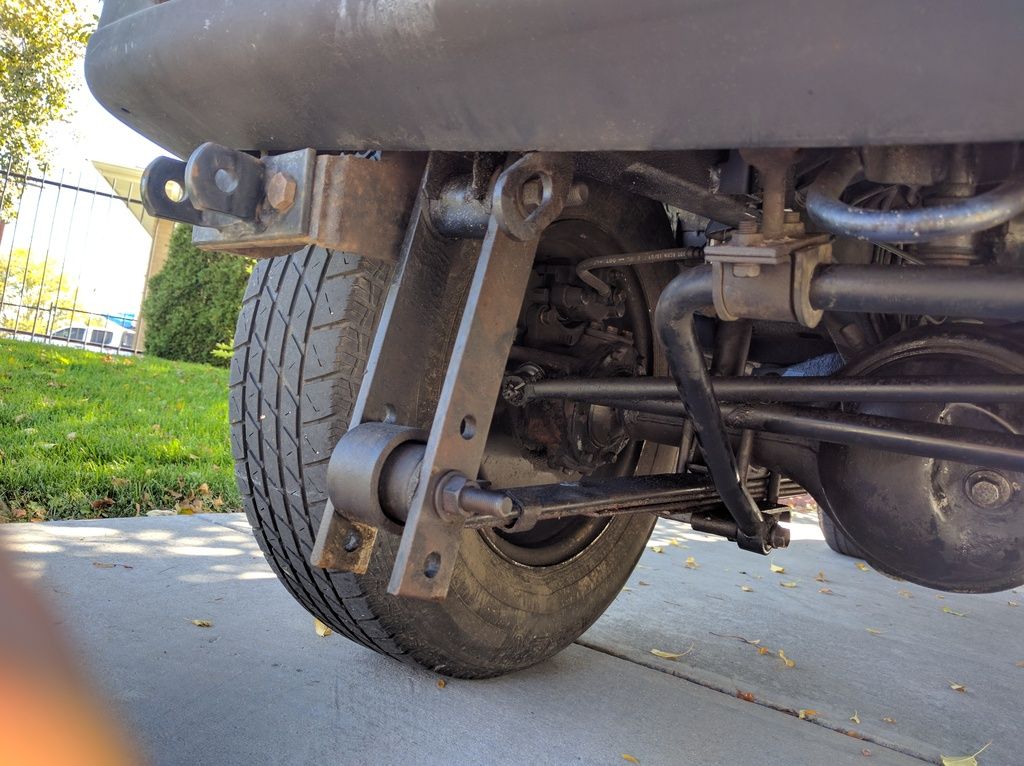 Here is 03tibE85 cutting off my front bumper mounts. Thanks for all your help Dave!
Small list of things replaced/Fixed:
Timing belt
Water pump
Oil pump
Crank and cam seals
Valve cover gasket
Oil gasket
Throttle cable
New wheel bearings front and rear
New shocks
New steering stabilizer
New 3" shackle lift front and rear
New heavy duty springs front and rear
New Tcase with 4.16 gearing
New Tcase cradle
New exhaust
New front and rear bumpers, custom made from Zuks off road in AZ
New LED tails and marker lights
New rag top
New rims and tires
Seats donated from an 03 Tib, thanks Dave!
Will post more as it happens.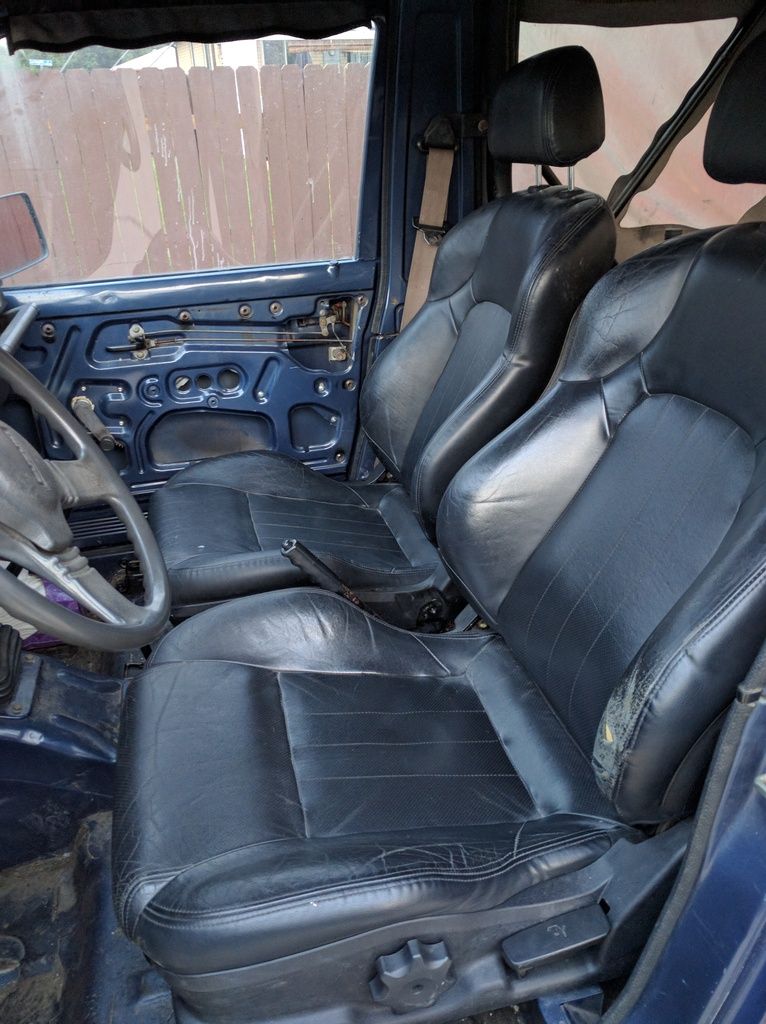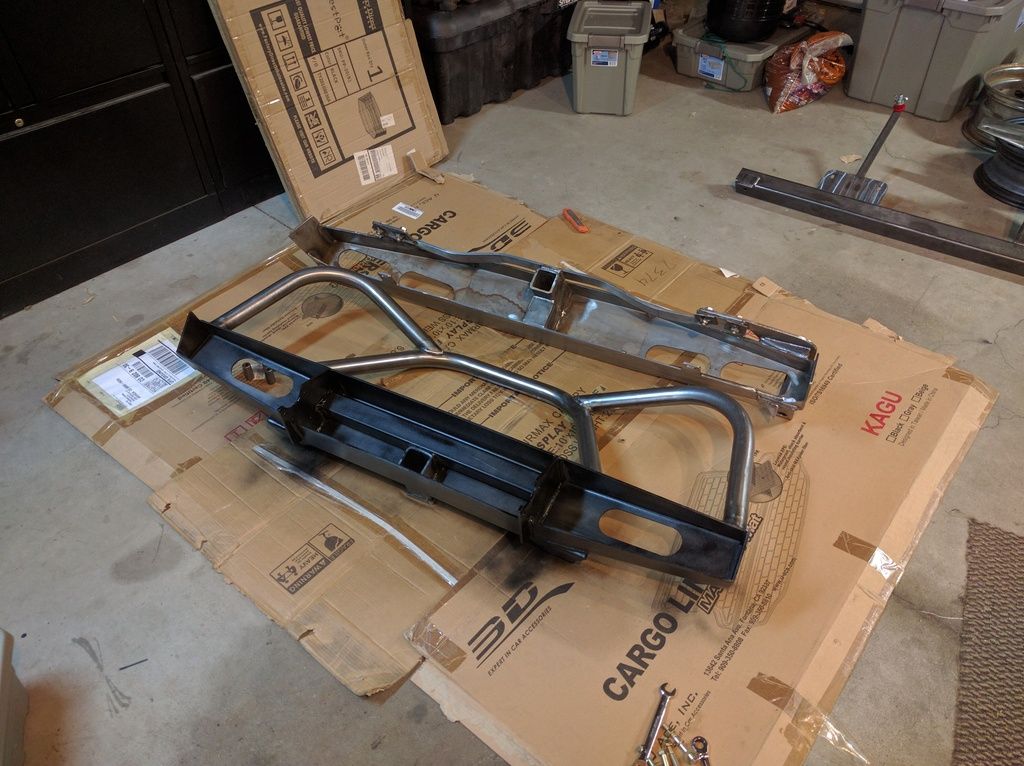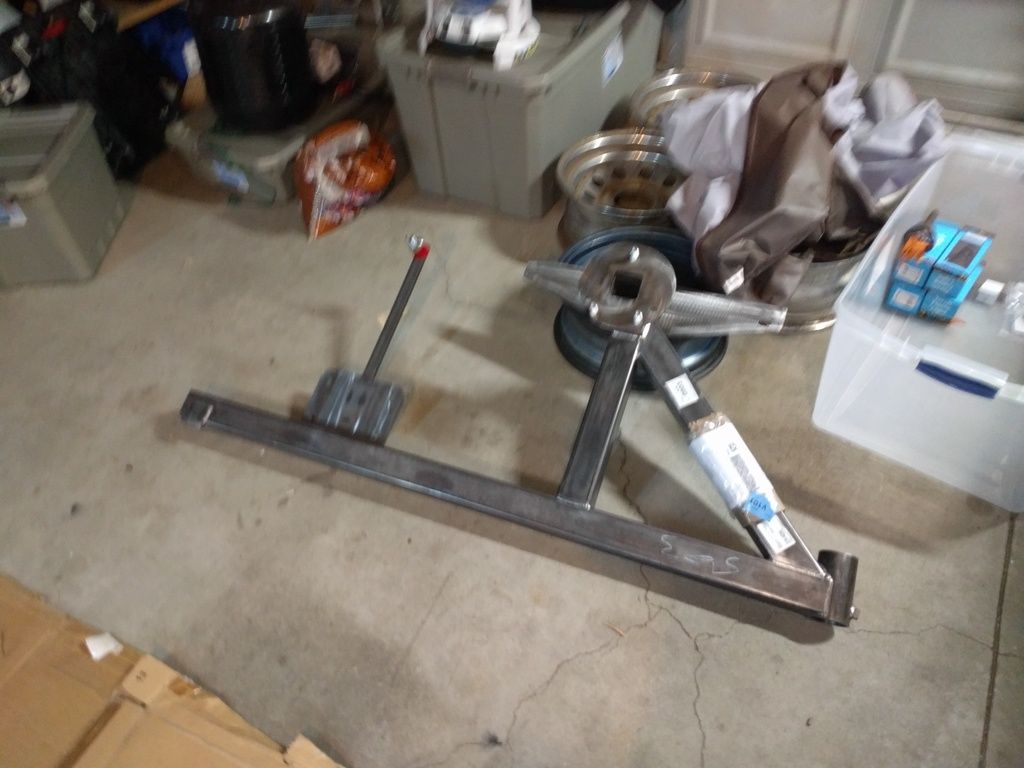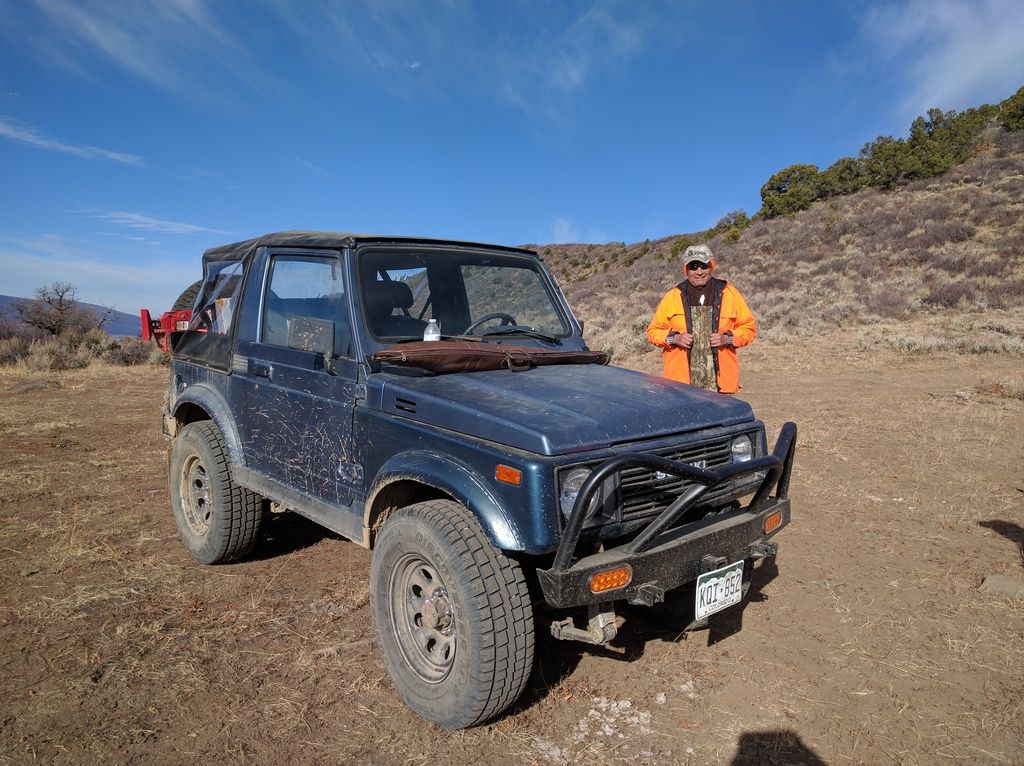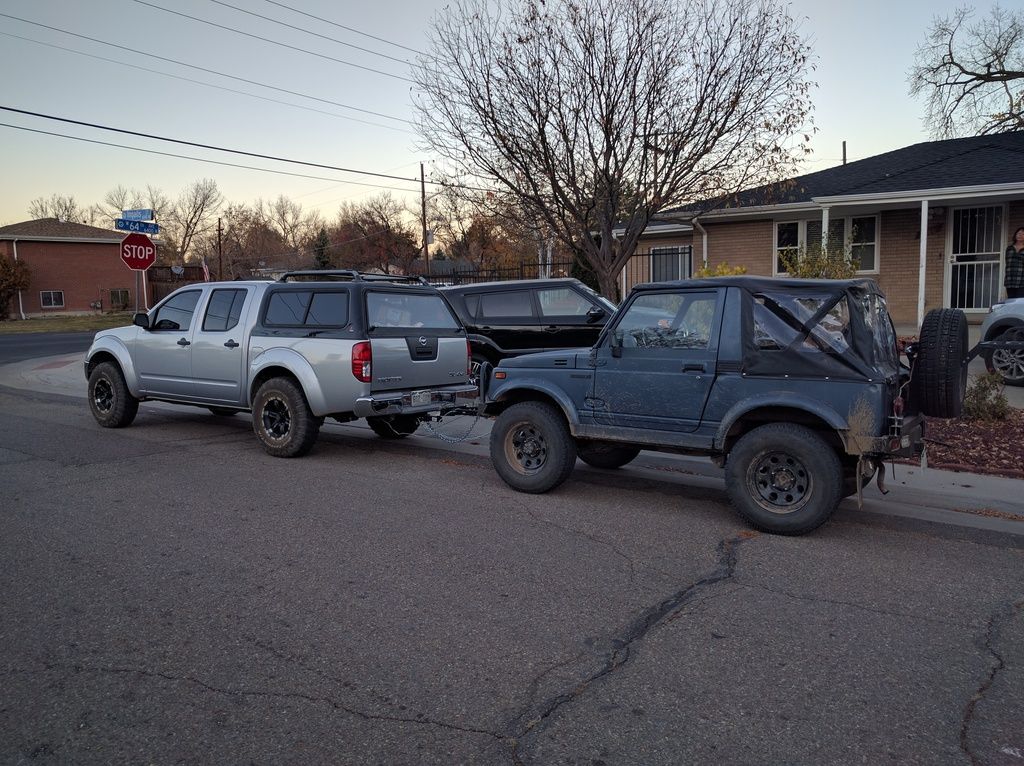 Will hopefully have some more trail pics next weekend.
11-17-2016, 03:11 PM
Moderator
---
Badass! That sounds like a fun project. Definitely more fun than these typical Jeep moneypits everyone keeps trying to build.
11-17-2016, 11:46 PM
Senior Member
Join Date: Mar 2010
Location: Denver Co
Posts: 2,584
Likes: 0
Vehicle: 1999 Hyundai Tiburon
---
Haha! Thanks man! Still a money pit, just a bit more rare! I swear, every lifted truck and jeep owner rubber necks this thing!



Folks are really into them! Jumped on few forums and people absolutely love these things. It's so small, smaller then a jeep. I was able to take ATV trails with 4 wheelers that no jeep or truck had even a remote chance of getting on.
11-18-2016, 07:35 AM
Senior Member
Join Date: Mar 2010
Location: Denver Co
Posts: 2,584
Likes: 0
Vehicle: 1999 Hyundai Tiburon
---
Not at the moment. I live in Denver and need my vehicles to pass emissions unfortunately. The samurai passes emissions and runs well. It is underpowered on the street, but did great off road. I put money in the tcase gearing to not only have better control off road, but also give life back to the tired carbureted engine. Will probably run it till it croaks, will then look at options then.



The swap you spoke of is already on my shortlist.



Plans of now are tackling a few more drivetrain issues. Got something rubbing when in 4wd, so I need to diagnose and repair that. Front knuckles need rebuilt, and I'll do some minor cosmetic things, both inside and out.



Planning on finishing my winch setup soon. Using a receiver style hitch system so I can use the winch in the front or back, keeping it inside the vehicle when not in use to save it from the elements. Also looking to make some rock sliders with receivers built in so I can utilize the winch laterally if need be.
11-21-2016, 10:24 AM
Administrator
Join Date: Mar 2006
Location: Lacey, WA
Posts: 12,515
Likes: 0
Vehicle: Two Accents, Mini, Miata, Van, Outback, and a ZX-6
---
Those things cost so much here that they're off my list, but they're cool!



A guy I used to work with had one. He would take it places in the bed of his F350 and load/unload it with ramps like an ATV. It was great.
11-22-2016, 09:51 AM
Moderator