Low Boost On Stock Compression
01-26-2008, 01:12 AM
Senior Member
Join Date: Aug 2004
Location: Quebec, Canada
Posts: 132
Likes: 0
Received 0 Likes on 0 Posts
---
In my missfortune, I've had the chance to drive my tib on the track with both the phantom grip unit and the Quaife last summer. Although I could have done without the emergency tranny repairs, it did give me the opportunity to compare both systems. You already know that, but the difference betwen the two is awesome! You can really fell the car pulling out of the corners instead of spinning in place with the PG. Yes both wheels now pull identicaly, but in the corners your still gona get a lot of spinning from the inside wheel since it as no weight on it. Even with all the weight behing transfered on the outside wheel, the car still has too much power and spins both wheels easily if your not gentle with the pedal.
The trick is to brake as late as possible, turn quickly and gun it in a strait line as you would on a 1/4 mile race. As your turning you need to modulate the gas pedal to avoid loosing traction and/or boosting too much at the same time, while maintaining the turbo spooling to get out of the corner quiclky. As soon as you can, you have to bring back the steering strait before flooring it, otherwise the car just keep understerring, not always a easy thing to do depending on the type of corners you driving thrue. wink1.gif
No more spinning you say?... lol in your dreams lmao.gif I was driving on Khumo V710 225/50-15 last summer (50 treadware, trac A, temp AA) and what I've noticed is that the tire that as the less weight (inside of the turn) is the one that wares down the quickest. Depending what sort of track you're driving on (CW or CCW, more lefts or more rights). At the apex of the turn, the tire doesn't sit squarely on the tarmac, the result is advance tires ware on the inside. Combine with my -2deg. of camber in the front and this is what you get at the end of the day:
The action shoot, you can clearly see how the driver side tire isn't flat on the ground.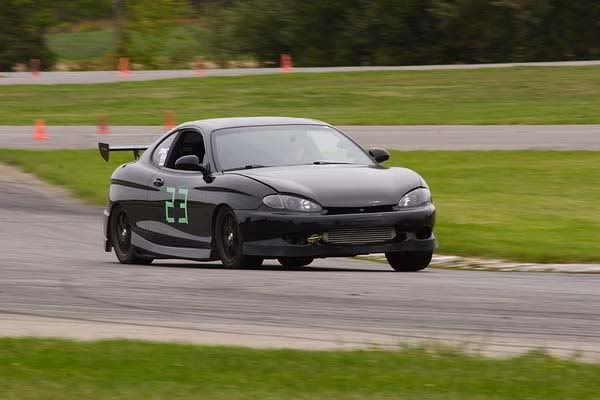 And the aftermath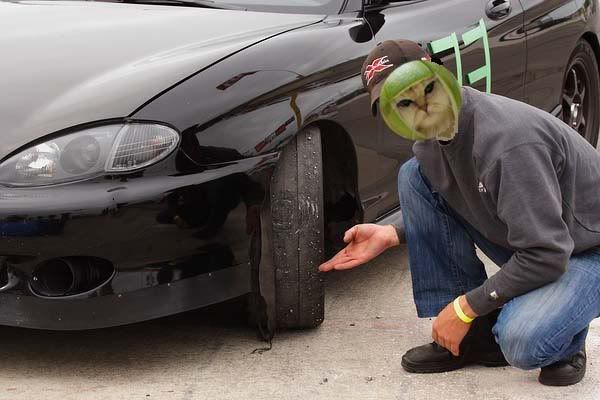 Denist99 is right, tires aren't made from crazy glue, they're made from Ficello cheese sticks lmao.gif
Granted, I don't have the best supension setup yet installed on the car (KYB + Eibach). Putting a set of ksport coilover will most likely help elliminate this problem in part. The Quaife reduces the amount of wheel spin the inner wheel does, but not completly.
So defenitly you need to have a Quaife differential in your tranny if your going turbo and over 220hp at the crank to enjoy the car to it's full potential, espacialy on the track!
01-26-2008, 09:39 AM
Senior Member
Join Date: May 2006
Posts: 1,494
Likes: 0
Received 0 Likes on 0 Posts
Vehicle: 1998/Hyundai/Tiburon FX
---
Thanks for the information-filled replies guys.

I think I know everything I need to decide whether or not to spend the money on the quaife.

I am going to purchase one, don't know how soon; maybe today!! LOL.

Love the car pascoile, black on black always looks good!

BTW: who makes your hood? I have the carbon creations one and the part that goes into the latch was smaller than the oem shaft. I had to wrap a slither of metal around it and glue it because the edges of the hood were pulling up quite significantly over 80-100 mph. You can see in your pic that it looks like yours is doing the same thing, and since you don't have hood pins, you may have the same problem I did. The smaller latch shaft can slide side to side in the latch itself, and allow one side of the hood to lift a bit in relation to the fender. Once I increased the diameter of the latch shaft, I have noticed a significant reduction in the amount my hood lifts. Worth a look anyway.

OH, are those brake cooling ducts!! SWEET man! I have been thinking of doing that on my tib as one of my fog light housings(everything but the lens), got ripped out during an off road escapade, lol. If you don't mind me asking, what type of material did you use? Just cut a hole in the fender well right?
Thanks again guys!
01-27-2008, 02:29 AM
Senior Member
Join Date: Aug 2004
Location: Quebec, Canada
Posts: 132
Likes: 0
Received 0 Likes on 0 Posts
---
Well, acutally the wheels are bronze.... but the brake dust makes them look like their black after a few laps wink1.gif

My hood is from Kamekazee motorsport, an old ebay seller, which also sales directly from their web site for cheaper. Yes, at high speeds it does wable a bit, but this hood I've got on the car right now was backed in by a Suzuki Sidekick. Ever since, the passenger side isn't as flush as the driver side. I've modified my hood latch to lower it as much as possible to make sure the hood is resting properly on the rubber supports on both sides, still it's not 100% perfect. This is my 2nd carbon hood, on the first one I had hood pins on. On my 2nd hood, I don't want to drill anything through it, so no windsheild washer nozzle and no hood pins.

Yes these are brake cooling ducks, good eyes tongue.gif Nothing out of the extrodinary really, I took some dryer 3" aluminium hose which I bented 2-3 times to get them to fit around the tire and pointing directly at the caliper. I didn't cut through the plastique wheel well, I manage to get skeezed between the frame and the wheel well. Let me tell you that with the piping and air filter on the driver side and piping + BOV on the other it isn't an easy job. This season I'm thinking of simply attaching the hoses directly under my intercooler, maybe 1 or 2 inch of the ground only to minimise the bends it the hoses, thus augmenting air flow to the caliper. But that would force me to install and remove them every time at the track, compare to my actual setup which I drove with all summer.
01-27-2008, 08:04 PM
Senior Member
Join Date: May 2006
Posts: 1,494
Likes: 0
Received 0 Likes on 0 Posts
Vehicle: 1998/Hyundai/Tiburon FX
---
Thanks for the info, no holes through my carbon hood either. I just can't bear to do it.

What do you guys think about the fact that I will be revving it to 7500 rpm on the stock internals at 10-15 psi? I dunno if it will hold it for that long running it that speed. What do the other haltech users set their redlines at and do you/they have stock compression/internals (more importantly rods?).

Thanks.
01-27-2008, 08:54 PM
http://www.hyundaiaftermarket.org/images/vendor1.png
Join Date: May 2002
Location: Canada
Posts: 1,500
Likes: 0
Received 0 Likes on 0 Posts
Vehicle: x3 accent gk tiburon santa fe
---
not running haltech but a reprogrammed stock ecu..
i raised the rev limiter at 7200rpm to be conservative...
01-28-2008, 10:25 PM
Senior Member
Join Date: Aug 2004
Location: Quebec, Canada
Posts: 132
Likes: 0
Received 0 Likes on 0 Posts
---
Officialy we're both supposed to be limited at 12 psi wink1.gif

But unofficialy we're both pushing over 15psi daily, Denisst99 as even got pass the 20psi a couple of times, I haven't been over 17psi yet. But our setups aren't 100% identical, of course Denis still as a few tricks up is sleeves to stay in front of me. tongue.gif

We both haven't been on a dyno either, it's an other one off those things we keep saying we'll be doing soon, but haven't done yet.
01-31-2008, 05:05 PM
Senior Member
Join Date: May 2006
Posts: 1,494
Likes: 0
Received 0 Likes on 0 Posts
Vehicle: 1998/Hyundai/Tiburon FX
---
Thanks!

I have begun the installation of the haltech/injectors/fuel pump/etc. No turbo just yet, still have to buy the turbo, feed and drain oil lines (does anyone know the specs of the output in our head on the drivers side (the one with the allen plug in it)?), and a FMIC.

NICE pic! Spinning into third even with an LSD!!! Haha! I can't wait to be doing that!!

I think I am going to order the diff soon.