The build of the Race Egg
11-07-2017, 09:02 PM
Senior Member
Join Date: Oct 2008
Location: Columbus, Ohio
Posts: 661
Likes: 0
Vehicle: 1997 Hyundai Tiburon
The build of the Race Egg
---
Figured I'd go ahead and start a thread for the MC Accent that I have been building. Some people already know about this but a lot still don't.
I will list up most of the details of the build but the pictures will start to come later as things get closer to being finished. Most of the parts for this build came from my boosted RD that I made a thread about last year. But unfortunately, the tib became too rusty for my liking and I decided it wasn't worth it to fix anymore..
Which lead me to the Accent, aka "Race Egg" -
#raceegg
2010 Accent GS with 80K on the clock that has a full beta swap!!
Engine
Beta I stock block

Beta II head with a mild port job

Beta II valve cover

Beta II oil pan

AirRam

Rside 65mm throttle body

Colt cam regrinds

Honda K-series COP setup

XTD 11lb flywheel

OBX lightweight water pump pulley

Transmission
Beta II (from GK)

Push clutch conversion

ACT Maxx pressure plate (custom)

ACT 6 puck disk

3an stainless braided clutch line

XD Elantra shifter base

Billet Pro Shop short throw shifter

Torque solid shifter bushings

Stock Beta II axles

Turbo parts
Maintec turbo manifold

Holset H1C with 12cm housing

Greddy FV BOV

Emusa 38mm wastegate with Tial 4psi spring

Mishimoto intercooler

2.5" intercooler piping

2.5" down pipe - heat wrapped

1.5" dump tube - heat wrapped

Titanium turbo blanket

4an feed line

10an return line

Vacuum manifold

Mounts
Polyurethane filled front and rear mounts

Stock XD Elantra passenger side engine bracket

Custom front engine bracket

Custom tranmission bracket

Fuel delivery
Bosch 1000cc injectors

Aeromotive 1000 fuel pressure regulator

On3 320lph e85 pump

Spoolboy mod on fuel canister

6an feed and return fittings on rail

6an feed line from pump to rail

Return style conversion (using stock feed line as return)

GM Flex Fuel sensor

Cooling
Mishimoto radiator (Beta II modded to fit)

Push fan conversion with 2000cfm slim fans

Suspension
Brakes
XG350 dual piston calipers

Kia Spectra5 rotors redrilled to 4x100 - Drilled slotted

Custom hub rings for the rotors

Rear disk conversion - drilled slotted rotors

Electronics
Megasquirt 3x - Launch control, traction control

Electronic boost controller

4 bar MAP sensor

AEM boost gauge

AEM AFR gauge

AEM oil pressure gauge

Milspec connector for ECU harness through firewall

Optima Yellow Top battery

Wheels
To be determined - Something that is 16x8 and a 225/50/16 tire

Exterior
SR lip kit conversion (sometime later down the road)

Extras
Power steering delete

Retrofit the MC A/C compressor to fit a Beta block

Oil catch can setup

Teaser pics for the time being!!!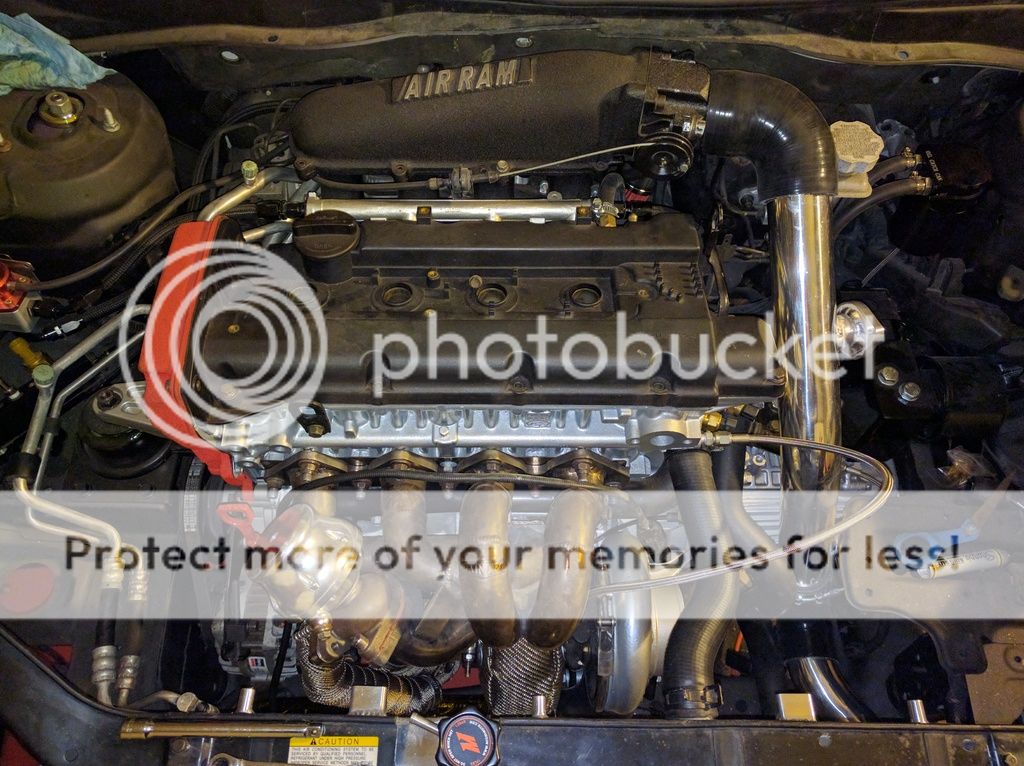 11-08-2017, 07:05 AM
Senior Member
Join Date: Oct 2001
Location: Little Rock, AR
Posts: 218
Likes: 0
Received 0 Likes on 0 Posts
Vehicle: 2007 Accent
---
Accent Goals right there! With all the beta swaps you see on here, this is probably the coolest one since it's using an MC and not an LC Accent.
11-08-2017, 07:07 AM
Senior Member
Join Date: Dec 2011
Location: Boston, MA
Posts: 134
Likes: 0
Received 0 Likes on 0 Posts
Vehicle: '12 Boston Red Veloster
---
thats a lot of work to do on a car but it looks like its been pretty easy of a build. i like that you included the parts list so anyone else can replicate it.
love seeing people do unique builds.
11-08-2017, 09:03 AM
Administrator
Join Date: Mar 2006
Location: Lacey, WA
Posts: 12,515
Likes: 0
Vehicle: Two Accents, Mini, Miata, Van, Outback, and a ZX-6
---
This is really awesome. It would be great if you could share some of the Beta swap details such as how you got the mounts to work, what axles you used, etc.



I bet this thing will be incredible!
11-08-2017, 09:02 PM
Senior Member
Join Date: Oct 2008
Location: Columbus, Ohio
Posts: 661
Likes: 0
Vehicle: 1997 Hyundai Tiburon
---
I've been working on this swap since about May of this year. Other Beta swaps have been done in the MC accent but they generally all use the Alpha II transmission which bolts right up to the Beta block. The people who go this route can use all of the stock brackets minus the passenger one, which needs to use a bracket from a XD elantra.



Since I'm doing a full Beta swap (engine/transmission/shifter) I had to design a front engine bracket and transmission bracket along with using the XD elantra bracket on the passenger side. I'm currently using the stock MC Accent axles as they fit in the trans just fine and are long enough to bolt into the hubs.



For the time being, I'm hoping to make about 350-400whp on e85 with around 15psi. This won't be a daily driver either and I have built block with Pauter rods and Wiesco pistons that will go in sometime next year. I'm looking to pick up some 225/50/16 Falken Azenis to help cut down on traction issues, which I already know will happen.



I'll keep the first post as the master build list and will add things to it occasionally as I remember them. I'm sure I am forgetting things.
11-08-2017, 09:19 PM
Senior Member
Join Date: Oct 2008
Location: Columbus, Ohio
Posts: 661
Likes: 0
Vehicle: 1997 Hyundai Tiburon
---
Might as well begin the photo dump with how the car looked before I started tearing into it.
Stock Alpha II engine/trans
Pulled the core support for ease of access
Sandblasted the bay and cradle as there was tons of surface rust
Prepped and primed the surfaces
Finished everything off with bed liner. I really like how everything came out!
Sandblasted the front fender wheel wells and used bed liner on them as well
11-08-2017, 09:42 PM
Senior Member
Join Date: Mar 2006
Location: tacos
Posts: 9,532
Likes: 0
Received 0 Likes on 0 Posts
Vehicle: 2000 Elantra
---
wait.



did you say that the beta swaps into that car with no need for motor mount fab?



hmmmm



tempting



i wonder how much work itd be to swap all my stuff over.



brakes wont swap since the bolt pattern is different



everything else might