Arp Head/Main/Wheel Studs
07-15-2005, 06:15 AM
Moderator
---
It doesn't have to be a group buy to get them. You can get them directly from ARP, or get your local ARP rep to get them and get a better price.

I really don't think there will be 10+ people buying these at the same time, even though it's only like $100 or less for them. But if you guys want to post one, then go for it. I need my stuff NOW, so I can't wait for it.
09-19-2005, 11:48 AM
Moderator
---
Updated and verified. fing02.gif
The studs are installed and the two longer bolts are good to go. They are an inch longer, but there's plenty of room on top. Just use 2-3 washers on top so that the bolt doesn't slide to the bottom of the threads.
Problem
- Since the stock bolts use allen wrenches, they are thin enough to fit inbetween the tight spaces of the head. But when using the 12mm socket, it needs to wrap around the bolt, therefore is MUCH wider than an allen wrench and requires more room. There wasn't enough. There was some extra material blocking access, left over from the casting. So I took a drill and a grinding bit and took away some material in 4 of the exhaust side holes to allow the socket to get through to the bolts. It took only 5 minutes to do, but an hour to figure out WHAT to do. mad.gif Now that you know, you should sail right through it.
09-20-2005, 09:26 AM
Moderator
---
Nope, you would need to measure the stock ones and find a match. I'm sure they have one, just not on file for us.
Aftermarket rods come with arp studs.
10-06-2005, 06:40 AM
Moderator
---
The studs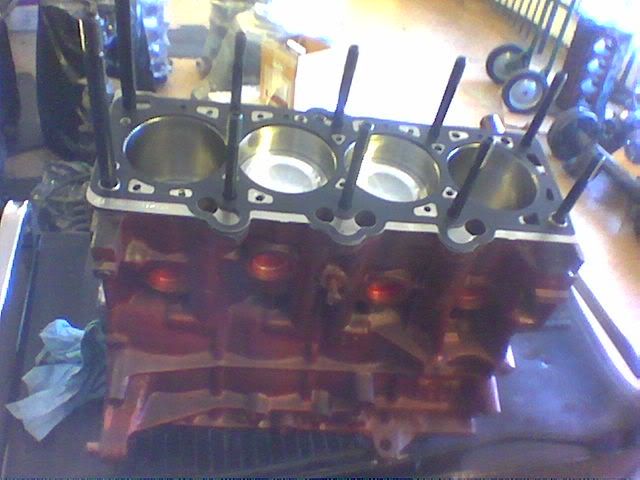 The 2 larger studs on the left, and the other smaller ones on the right.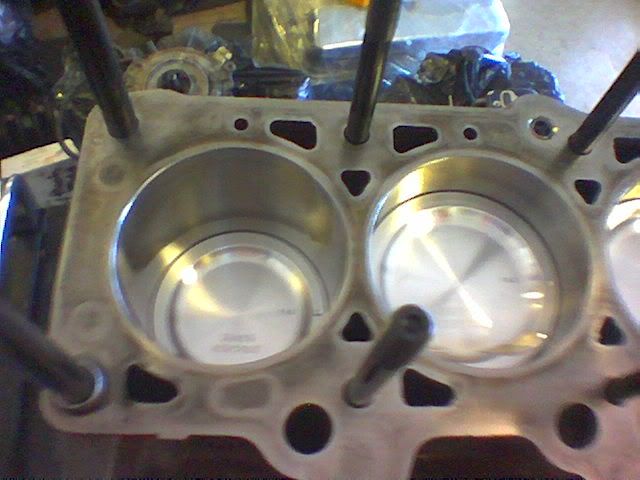 Here is a pick of the larger/longer stud with the head on. You can barely make out that the threading on it ends before it hits the top of the head. This is why you need to buy a couple washers to fill that gap so you can torque the bolt down.
You can also see how, even though it's 1" longer than you need it, it barely reaches above the hieght of the cam and doesn't interfere with anything.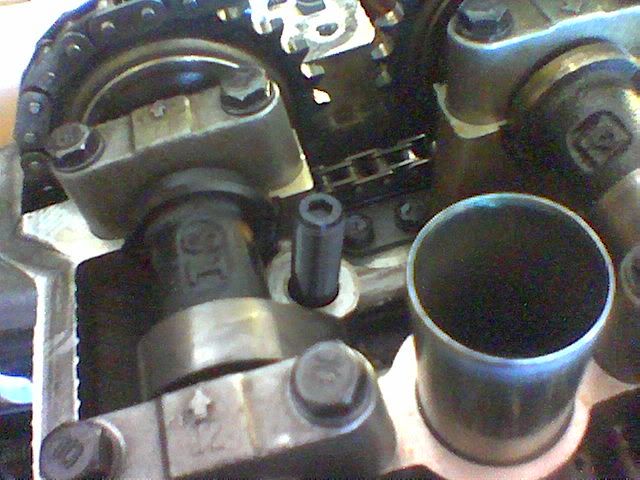 10-06-2005, 06:52 AM
Senior Member
Join Date: Feb 2007
Posts: 830
Likes: 0
Received 0 Likes on 0 Posts
Vehicle: 2000 Hyundai Tiburon
---
Great post JONGTR and thanks for the pics. This post will defienlty help all the guys who are plannig on boosting/big nitrous and motor builds.

Just for everyones info I am using OEM Bolts and @ 16 psi of boost i noticed that my head has lifted at some point a very very very small amount not a big deal but I am going to have the bolts tq'ed again.
12-07-2005, 11:55 AM
Senior Member
Join Date: Feb 2007
Posts: 830
Likes: 0
Received 0 Likes on 0 Posts
Vehicle: 2000 Hyundai Tiburon
---
JONGTR

What did you TQ the studs at?

The 10mm Can support 60ftb while the 12mm can suport 80ftb. TQing them at different ftb levels is not the best thing to do obviously.