1st to 2nd Gear Grinding
03-05-2011, 12:57 AM
Senior Member
Join Date: Apr 2009
Location: Sacramento, CA
Posts: 1,687
Likes: 0
Received 0 Likes on 0 Posts
Vehicle: 02 Hyundai Accent
1st to 2nd Gear Grinding
---
I should kick myself in the ass for not getting to this sooner but it looks like I fixed my 1st to 2nd gear grind that alot of us have. Back in June when my engine was out I noticed that the bushing on the end of the black shift cable was no longer round but oval. This made the up/down throws of the shifter sloppy an most likely misaligned. Fast forward to today, a week or more after putting RedLine MT90 in my trans it was still grinding. I figured it was way to late for the RedLine treatment, ive been grinding since about mid 2007. Then it hit me, I had all but forgotten about that shifter bushing. So over to All Hyundai Auto Recyclers I went. It was a very long journey to say the least but if the new shift cable will fix my issue then it would be well worth it. So I left work and hit the road, 3-4 minutes later I arrived at the recyclers, what a freaking journey lol. I asked Justin for the shift cables and we went looking, found a pair from an 04 Accent already pulled sittin on the hood that looked near new, SCORE! Now here is a great piece of info he told me after he said I was lucky to find a set. He said that about half of the older hyundai/kia manual transmissions that come in have that same bushing worn out and even some of the newer ones as well. Also the ones that are good dont stay in stock to long cause he sells them all the time. He also said he has seen some crazy rigged sh*t done to try an fix it.
So I paid for the part and headed back to the shop to install, another grueling 4 minutes later and im back. I plan on swapping the entire shifter cable set in but for now I just swapped the bushing, easy to pull out and reinstall. So after that it was time to drive home and test this out. After the tranny warmed up I did nothing but quick, high rpm 1st to 2nd shifts all the way home... Not one single "CRUNCH". Normally once the tranny warmed up I would have to wait until the rpm's dropped to near idle before shifting to avoid grinding. A worn out bushing will not be visibly noticeable unless you remove the pin and washer sitting above the bushing.
***UPDATE***
Ok well for the most part the grind is gone. I still grind near redline with quick shifts but I dont normally shift at redline anyways so other then that it was very positive fix. I have high hopes on even better results after fully swapping the shift cables out, I am sure that every part of it is worn out. As promised here come some pics.
This is the bushing that I replaced, the metal collar that goes in the center is missing, it most likely fell out back in June when I pulled the engine/trans.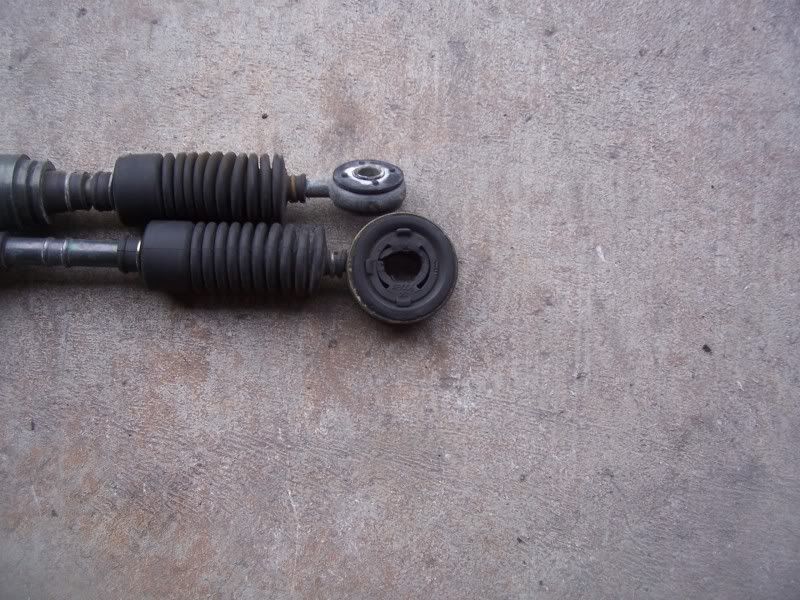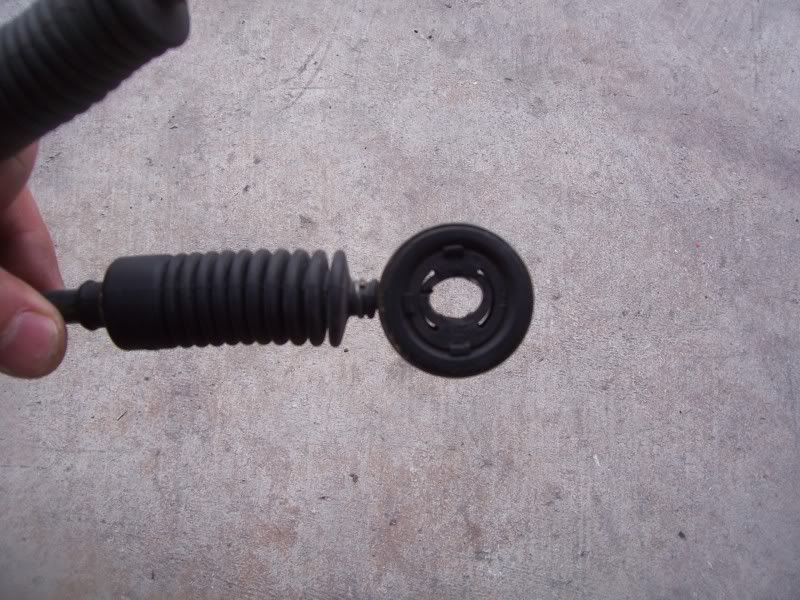 Remove the clip and washer at the end of the black shifter cable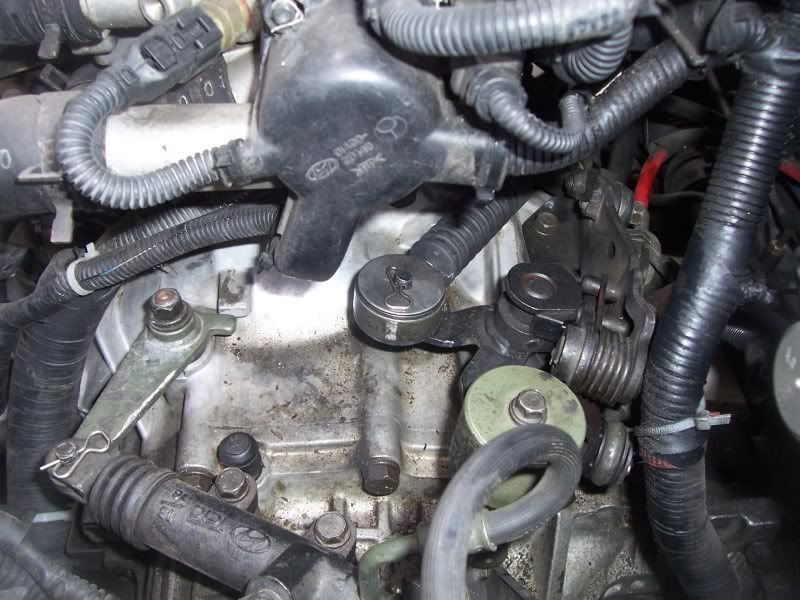 Your bushing should look like this but for a test have someone shift up and down to see if there is slop in the bushing.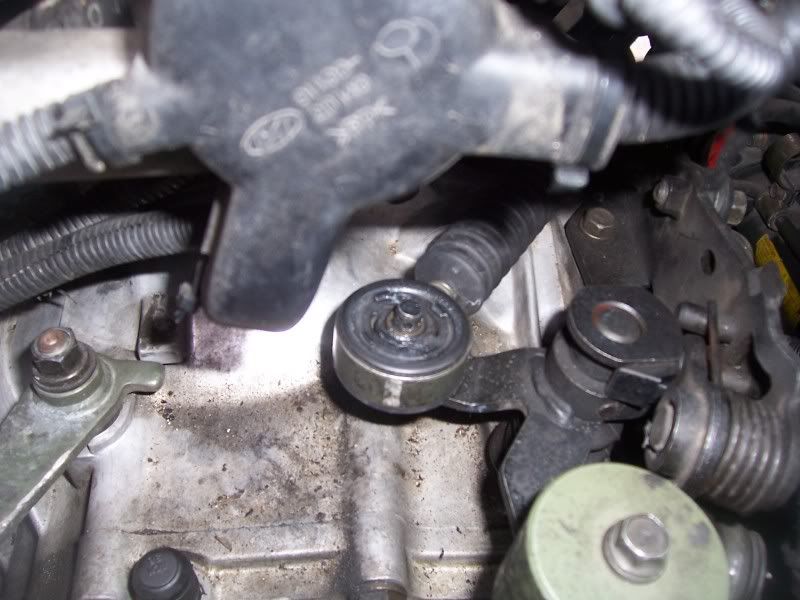 I need to take a pic of how the bushing aligns into the cable but you should see a mark left on the bushing from the cable as it ends inside of the round metal holder of the bushing. This lines up to a knub on the top of the bushing, its really simple.
03-05-2011, 05:19 PM
Senior Member
Join Date: Apr 2009
Location: Sacramento, CA
Posts: 1,687
Likes: 0
Received 0 Likes on 0 Posts
Vehicle: 02 Hyundai Accent
---
Hey this should be a stickie. Floyd you might need an entire cable replacement if the other ends are worn as well, plus maybe the solid bushing is hurting, not helping. IMO it would be worth a shot to throw in a newer set of cables if it gets rid of your grind.
04-24-2011, 09:39 PM
Senior Member
Join Date: Dec 2008
Location: Floating around the AUDM
Posts: 3,837
Likes: 0
Received 0 Likes on 0 Posts
Vehicle: X3 Sprint, S-Coupe Turbo
---
funnily enough, i was fighting with a vague shifter for a frustrating few weeks, had the interior in pieces trying to check for snagged cables and allsorts. eventually i found there was a bolt missing at the back of the shifter bracket, allowing it to move in relation to the cables. got the bolt from the wreckers for free, feels good man.
04-24-2011, 11:46 PM
Senior Member
Join Date: May 2008
Location: California
Posts: 545
Likes: 0
Received 0 Likes on 0 Posts
Vehicle: 2001/Hyundai/Tiburon
---
I replaced my bushing's with bearings out of my old skateboard similar to this
DIY
.
The hardest part was shaving the linkage down to accept the slightly larger bearing. I have not had any issues with the linkage in the engine compartment after that mod was performed over 100,000 miles ago. The linkage side that connects inside the car to my shifter could use some new bushings though.
05-04-2011, 11:54 PM
Senior Member
Join Date: Dec 2009
Location: AZ
Posts: 186
Likes: 0
Received 0 Likes on 0 Posts
Vehicle: 2001 Tibby
---
After having my clutch replaced I have now got a grind going from 1st to 2nd. It's really bugging me cause I have never had an issue until after the clutch was replaced. Any advice would be great thanks.