FS: 02 Beta Swap Accent w/ CVVT
10-26-2009, 06:40 PM
Senior Member
Join Date: Oct 2008
Location: Minneapolis, MN
Posts: 850
Thanks: 0
Thanked 0 Times in 0 Posts
Vehicle: 2002 Accent
FS: 02 Beta Swap Accent w/ CVVT
---
Finally ready to get rid of the Accent. Moving back to Minnesota and i'm 100% she can't handle the snow.
Don't think there's many Southwest members on here but if you're in the area and interested here you go
2002 Hyundai Accent
1.5" Drop
5 speed
2.0L 2004 G4GC BetaII w/ CVVT from Hyundai Tiburon
Custom exhaust with Magnaflow muffler
Whiteline front and rear adjustable sway bars
16" Rota c10s
Falken tires with about 15% wear
Pioneer headunit
Pioneer 5 1/4 speakers up front
Infinity 6x9s in the rear
Sound proofing in the back
Black euro style taillights
White-face gauges
Black and Grey interior
Odometer reading is incorrect
car has about 85k on the body
20k on the engine
Exhaust and electrical work was done by Toy Box Auto in Tempe, AZ
To my knowledge this is the only Beta swapped Hyundai with CVVT (VTEC) in the Valley
This car runs B16 swapped civics, basically it's Hyundai's B16 swap
All Arizona car, no rust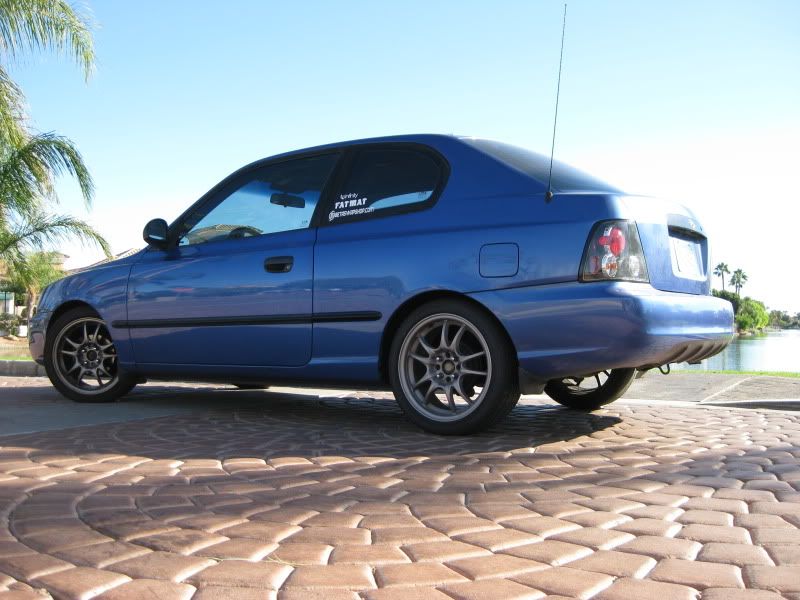 I'm asking $3800 for it.