2000 Tiburon part out
12-13-2016, 02:27 PM
Senior Member
Join Date: May 2002
Location: tampa, FL
Posts: 1,782
Likes: 0
Received 0 Likes on 0 Posts
Vehicle: 2000 Tiburon
2000 Tiburon part out
---
its time to move on for the Loneshark. Tiburon has been sitting for a year, and no funds to bring her back to life. I will pull parts as they are paid for.
Will provide additional pics upon request. all prices are negotiable of course.
Car is in Norfolk, Virginia if anyone wants to come check it out. Will only ship within U.S. my price posted INCLUDES shipping.
on or about January 15, 2017, whats left will go the junkyard somewhere in Hampton Roads, Virginia.
4-1 Header (the rare one from back in the day, i forget the name) ceramic coated by Jet Hot, upper section only, no downpipe (downpipe had to be welded and was done poorly). upper will need to be recoated, but its strong, no major rust, only surface and sounds amazing.
$125
AIR RAM beta 1 intake manifold WITH phenolic spaces. also coated by Jet Hot, the surface marks are only dirt and water spots, it will clean up to perfection I guarantee it.
$800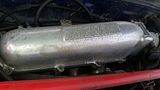 custom Viper strut bar. gave the handling an amazing feel. slight chipping where the engine lift point (near the throttle body) would sometimes smack the bar during heavy acceleration as the engine rolled... nothing major and doesnt take away from all its awesomeness. again, its just dirty and will clean up nicely.
$150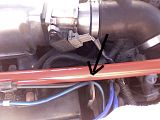 KillerGlass lower pipe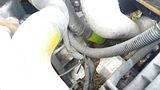 and Killer Glass upper pipe. not sure what to ask here.i forgot how much i paid. best offer worth my time in removal and shipping gets it. again its dirty, but will clean up nice. hoses have about 60,000 miles in them, plenty of life left in them.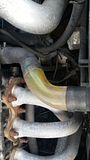 AEM exhaust A/F was never used on a boosted setup, works just as well as the day i got it. readout is the stoich readout in red. O2 sensor has about 70,000 miles, but showed no signs of fault.
$100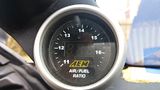 Auto Meter Cobalt series boost guage. with MAF sensor. was never used on a boosted setup.
$50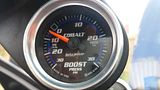 apexi SAFC2. no harness, you will have to make your own like i did. no mount either. just the computer.
$50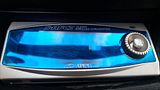 complete guage cluster with Blue needles. black face guages in KPH and a super rare RDTIB bezel install. will also include a second cluster for parts if you need, just because i want to give it to someone who might need it.
$100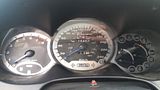 super rare custom fiberglass 3 pillar guage pod, full pillar from dashboard to rear quarter window not a cheap attachment, the real deal. no defects of any kind. no cracks.
$125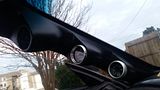 RD chassis bushing kit from KSPEC super rare. never used
$200 - SOLD -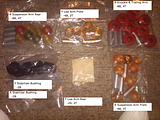 Thats about it... shame to say that many parts will be going to the junkyard as i dont have the means to pull them. she has a new beta2 2003 elantra 5spd transmission with only 13,000 miles on it. a completely new suspension with only 8000 miles on it, eiback springs, new absorbers, new insulator rubber, and new top spring mounts... the stock BBK calipers painted RED with the good stuff the G2 epoxy caliper paint, prepainted before they were mounted... the rotors have rusted over so they are no good, but the calipers have about 2000 miles on them. oh yea, a Valeo Hyper spec lightened flywheel, the rare one from Korea... so many parts that i cant take off. sad day for me.
12-13-2016, 07:57 PM
Senior Member
Join Date: Oct 2008
Location: Columbus, Ohio
Posts: 661
Likes: 0
Vehicle: 1997 Hyundai Tiburon
---
That's a bummer. You should pay someone to pull it, haha.



I have a friend who's interested in the strut bar. Are you a member of RD Sharks on Facebook? Might help spread the word there.