Hyundai FAQ - Everything You Ever Wanted To Know (mostly Tib Info)
07-12-2006, 05:26 PM
The Man!
Hyundai FAQ - Everything You Ever Wanted To Know (mostly Tib Info)
---
Q: What is Turbulence?
A: Turbulence is the OEM name giving to the 2nd generation Tiburon over in Korea. The Tiburon only lasted from 97(6) til 1999 (RD1). Then the Turbulence was developed (RD2), and lived the years 2000 through 2001. Now the Tiburon is badged a Tuscani (GK).
Q: What about a Coupe? Whats that?
A: You must be in Europe or one of the odd countries then. All Tiburons are Coupes. I guess they have to do something different. Fries are Chips. So... Tiburons are Coupes. Makes sense, doesn't it?
Q: What is RD?
A: That would be the Chassis code for the 1st and 2nd generation tiburon. Roughly translated it stands for Rider's Delight....
Q: Bulbs. I need bulbs. What will fit?!
A: Look at the following for your application...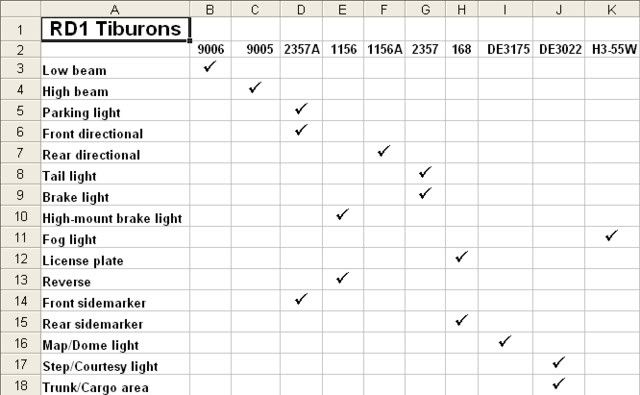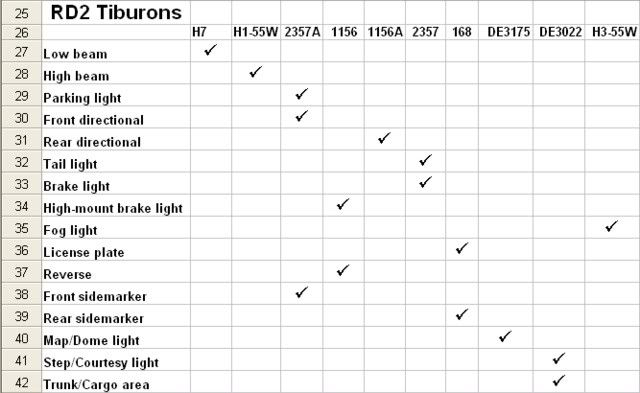 Q: Will [this] part from an RD1 fit on an RD2? Vice versa.
A: On the outside, the front fenders and side skirts are compatible. Everything else is unique to the specific generation. Interior, the gauges will not work. Shift surround can work, however it may look out of place. Stereo surround will fit also, but won't match the dash correctly. Seats, cargo cover, and center console all should work without a hitch. Front and rear strut bars are compatible, as is headers, intake, cams, cold air intake (exc. REV A Tibs) and pretty much anything else mechanical will work, i.e. struts.
Q: Warm Air Intake? Whats this?
A: A WAI allows for a shorter airway to the intake. Although a WAI is more beneficial than the stock airbox, a Cold Air Intake (CAI) is more desireable because it places the filter behind the fog light in the bumper to get the coldest possible air into the intake.
Q: All these abbreviations! What ever do they mean?!
A: Thanks to the wonderful forums of HP.com, i've brought this over here. Credit should be given to Red_AGT and the others who posted
here
.
CEL - Check Engine Light
ECU - Engine Control Unit
DIY - Do It Yourself (instead of paying someone else to do it)
CAI - Cold Air Intake
WAI - Warm Air Intake
SR - Shark Racing
IM - Intake Manifold
TB - Throttle Body
BBTB - Big Bore Throttle Body
MAF - Mass Air Flow
MAP - Manifold Absolute Pressure
AIT - Air Intake Temperature
AFR - Air Fuel Ratio
ABS - Anti Lock Braking System
ATC - Automatic Temperature Control
SOHC - Single Overhead Cam
DOHC - Dual Overhead Cam
OHC - Over Head Cam
Evap System - Evaporation System
IAC - Idle Air Control
CAT - Catalytic Converter
MAT - Manifold Air Temperature
PFI - Port Fuel Injected
EFI - Electronic Fuel Injection
TPS - Throttle Position Sensor
TBI - Throttle Body Injection
WOT - Wide Open Throttle
A/C - Air Conditioning
ATF - Automatic Transmission Fluid
LSD - Limited Slip Differential
AWD - All Wheel Drive
AWS - All Wheel Steering
O/D - Overdrive
Tranny - Transmission
FMU - Fuel Management Unit
HP - Horsepower
WHP - Wheel Horsepower
BHP - Brake Horsepower
FWD - Front Wheel Drive
RWD - Rear Wheel Drive
MPG - Miles Per Gallon
N/A - Naturally Aspirated
RHD - Right Hand Drive
RPM - Revolutions Per Minute
SC - Supercharged or Supercharger
SRS - Supplemental Restraint System
TC - Turbocharged or Turbocharger
HP - HyundaiPerformance.com
HA - HyundaiAftermarket.org
NT - NewTiburon.com
WTF - What The Fvck?
BS - Bullshit
STFU - Shut The Fvck Up
NEWB - New person on the forums.
NOOB - Same as NEWB.
NEWB - Same as NOOB.
IM - Intake Manifold
BIM - Bored Intake Manifold
SAFC - Super Air Fuel Controler
Euros - Aftermarket Taillights
Altezzas - See Euros. Called altezzas because of a similarity to the taillights on the Lexus Altezza.
Rice - Tuscani emblems on a 1997 Tiburon, windshield washer lights, vinyl, ect... Basically stuff you'll find at your local Auto Zone. They have an aisle called "Rice."
Own3d - "Owned, someone took you to da hizzouse and did ya raw dog" ~REDZ quote
FMIC - Front Mounted Intercooler
SMIC - Side Mounted Intercooler
IC - Intercooler
JDM - Japanese Domestic Market
KDM - Korean Domestic Market
OEM - Original Equipment Manfacture (Stock parts.)
HLA - Hydraulic Lash Adjusters. They are NOT however lifters, they do perform some of the same functions such as take out slack in the valve train.
FYI - For Your Information
BTW - By The Way
NOS - Nitrous Oxide Systems (Brand name, NOS doesn't mean Nitrous.)
NX - Nitrous Express
I4 - Inline 4. 4 banger. 4 spark plugs.
4-2-1 - Header: from the engine, 4 pipes become to 2, then become 1.
4-1 - Header: from the engine, 4 pipes become 1
DSM - Diamond Star Motors (1st and 2nd Gen Eclipses. Eagle Talons. Plymouth Lasers. Evos)
HID - High Intensity Discharge (Headlights)
Chassis Codes and other Related Codes
LC - Little Champ - 2000-2002 Accent
SM - Surface Master - Santa Fe
EF - Elegant Feeling - Sonata
RD - Riding Delight - 1996-1999 Elantra/Tiburon
GK - 03+ Tiburon
XD - Excellent Driving - 2001-2003 Elantra
SC - Sporty Coupe - Scoupe
X1 - 86-89 Excel
X2 - 90-94 Excel
X3 - 95-99 Accent
LC - 00-02 Accent
LC2 - 03 Accent
Series 1 - 90-91 S-Coupe
Series 2 - 92-95 S-Coupe
RD - 97-99 Tiburon
RD2 - 00-01 Tiburon
GK - 03-06 Tiburon
J1 - 92-95 Elantra
J2 - 96-00 Elantra
XD - 01-03 Elantra
XD2 - 04+ Elantra
Y1 - 1989-1994 Sonata
Y2 - 1995-1996 Sonata
Y3 - 1997-1998 Sonata
EF - 1999-2001 Sonata
EF2 2002-2003 Sonata
EF-B Sonata
EF - 99-01 Sonata
EF2 - 02-05 Sonata
NF - 06 Sonata
Q: I found a sweet body kit on EBay. Should I buy it??
A: Before anyone even looks at it, the general answer is no. It's a rip off. It may seem like a great buy, but 9 times outta 10 it isn't. What you're looking at is a copy of the Veilside body kit. Generally, it will cost about the same, if not more, to get the kit to actually fit your car. Save your money and buy the original.
Frequent Problem Areas With The Tiburon
Q: I get this annoying humming sound pretty much at all speeds, but more so on the highway. What is that?
A: Probably more often than not, this will be one of your wheel bearings. Bearings go bad in Hyundai's more often than Ford's break down. And that's a lot!! Bearings are covered under the bumper to bumper portion of our Warranty, so if you're under 60,000 miles bring it to your nearest dealer and get it taken care of.
Q: Why is my rear view mirror vibrating like a b1tch?!
A: Couldn't tell ya. It happens. Annoying as all hell though. It can be fixed thanks to the DIY tibwrcsbj provided here
Q: Parts of my interior seem to be chipping and cracking. What can I do now?
A: Depending on your mileage, this may be covered under your warranty. Take it to your nearest dealership if you (a) have less than 60,000 miles or (cool.gif live near a "good" dealership and can give you a deal. It can happen.
Regular Maintenence Questions/Other Questions
Q: What should I get for a replacement battery?
A: Depends on what you're looking for. If you want a battery to just get your car started, you will be looking for BCI Group number 35 at most parts stores. Most stores don't list that size as an option, but it is.
If you want something that looks better underneath your hood, try an Optima. These are deep cycle batteries and come in Red, Yellow, and Blue tops. Although each battery is designed for specific reasons, they can all be used under the hood of our car. You can pick these up at any Auto Zone, Advanced Auto, Sears Auto, or even EBay.
Thanks to Mad-Machine, he introduced us to the
Odyssey Battery
, which is a dry cell battery. It is a lightweight (26 pounds), short (5.04 inches), powerful (925 CA's [CCA's will be less]) battery.
This thread here can give you more information about Optima and Odyssey batteries
Q: Could you please explain the Hyundai Warranty for me?
A: Don't you watch TV? 10 year/100,000 miles. Thats it.... or not. There's fine print... there's always fine print. Which question fits you?
Did you purchase your car new?
Hyundai offers a 5 year / 60,000 mile New Vehicle Limited Warranty and 10 year / 100,000 mile Powertrain Limited Warrantyfor Hyundai vehicles model year 1999 and newer. As the original owner, you have the 5 year / 60,000 mile New Vehicle Limited Warranty and the 10 year / 100,000 mile Powertrain Limited Warranty.
Did you purchase your car used?
As the second or subsequent owner of a Hyundai vehicle, you would lose the 10 year / 100,000 mile Powertrain Limited Warranty. However, you would have Powertrain warranty coverage that is included under the remainder of the 5 year / 60,000 mile New Vehicle Limited Warranty available to you. If the second owner were an immediate family member (husband, wife, son, daughter, stepson or stepdaughter) of the original owner of a Hyundai vehicle of model year 1999 - 2003, then the entire original warranty (both the New Vehicle Limited Warranty and Powertrain Limited Warranty) would go to the second owner.
Information about the Hyundai Engine
S: Tell me things about the Beta engine.
R: Tiburon vehicles from 1996 - 2001 have the Beta 1 engine in them. These came in 3 different varieties. The most common being the 1.8 L and 2.0 L I4 engine. Other parts of the world, Australia and New Zealand for example, have a 1.6 L option as well.
The Beta 1 could also be found in Elantras from 1996 to 2000.
Starting in 2001 with the Elantra, and 2003 with the 3rd Gen Tiburon (GK), the Beta became the Beta 2. The difference being that, unlike the MAF based Beta 1, the Beta 2 is a MAP (Manifold Absolute Pressure) based vehicle. Because of this difference, swapping parts from the generations is quite difficult as it requires modifications to the ECU, wiring harness, and sensors.
Hyundai then re-released the Beta engine in 2004 to become what we call the Beta 2.5. This engine goes back to the MAF based origins, but is also has CVVT technology (Continuous Variable Valve Timing). They also have a much different throttle body and IM. Valve Covers are not swappable between beta 2.5's and the others.
Brake information
Q: What is a captive rotor?
A: With a captive rotor setup, the rotors, hubs and bearings are all bolted together as an assembly when they're on the car. Without the captive bolts in place, the whole thing would fall apart if you tried to drive the car.
With a non-captive setup, the hub and bearing are one unit, but the rotor is separate, and is held in place by the wheel once it is secured with the lug nuts.
The rotors themselves are much different too. Captive rotors have indents in the centre part for the backs of the lug bolts, which are pressed into the front piece of the captive rotor/bearing/hub assembly. The four holes in the rotor are for the captive bolts that hold everything together. Non-captive rotors have four holes too, but these fit on OVER the lug bolts, which are pressed into the back of the hub assembly itself.
You can't swap rotor for rotor because the two designs are vastly different.
Simply put: when you change rotors on a captive rotor setup, you remove the wheel bearing along with the rotor, and it's a lot of work. On a non-captive setup, the rotor comes off independently of the bearing/hub etc and is very simple to remove.
If you want to replace captive rotors with non-captive, you have to change the bearing, hub, spindle and rotor.
This system is not found on 2nd generation tiburons. this is something that First gen owners have to look for.
a picture of this setup is below
NOTE:
don't get confused about the small screw that is on the hubs in 2nd gen tiburons. this screw is there only for the production of the vehicle. you can take this off when applying aftermarket rims.
If you have captive rotors, and would like to do a swap, please visit this link
here
.