ATTN: Florida users, Jessica Barton's Toyota Supra was stolen
01-10-2013, 05:20 PM
Member
Join Date: Aug 2002
Location: Miami
Posts: 67
Likes: 0
Received 0 Likes on 0 Posts
Vehicle: 2011 Genesis 3.8
ATTN: Florida users, Jessica Barton's Toyota Supra was stolen
---
Hey guys, a good friend of mine, Jessica Barton (you may recognize her through a Google search, she's a pretty famous model for the car scene; she and her fraternal twin Jennifer were featured in a lot of magazines in the mid-00 era with their respective Supra/ITR), had her very, very modified Supra stolen from her home last night in the Waterford Lakes area, Florida.
"Please keep an eye out for anything about this car! For any info please contact Kings Performance @ 321-235-2699"
THERE IS A REWARD.
So far all I know is that it was stolen between 10PM and 4AM.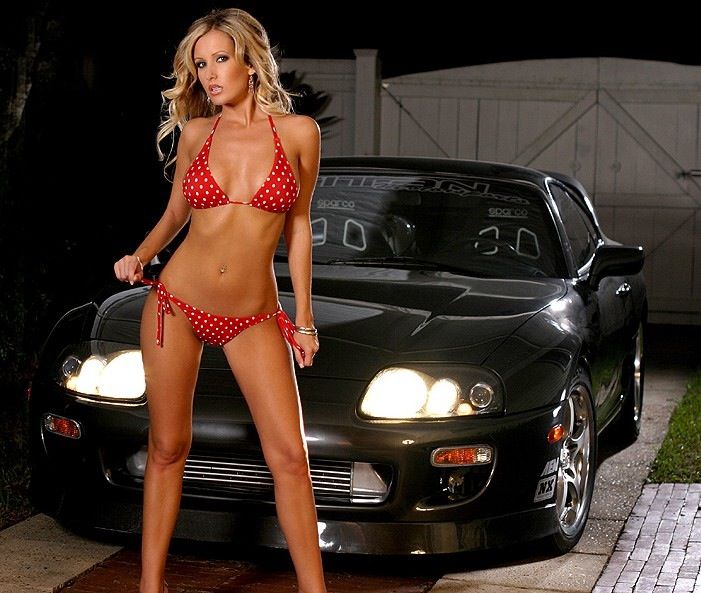 If you could repost this or check local forums to see if there's additional information, that would be really helpful. Jessica's had this car for as long as I can remember, ever since her MSB (err, I mean Anthracite) was totaled out by a soccer mom running a red light and t-boning her. She's done a lot of work to it, and she's taken it out to a LOT of events, both local and national (TX2KX, HIN, etc). Everyone should recognize her car on sight if you've paid even a LITTLE bit of attention to the Supra community over the years. Her biggest fear right now is that it will be chopped for parts before anyone can find it, so please keep your eyes and ears open for very high-end Supra parts suddenly available (this is anywhere, not just in Florida). Hopefully they will be dumb enough to sell them on SF, but honestly, Supras are pretty hard to steal as it is, so I'm sure whoever it was knew what they were after and waited for the right time to do it.
Once again, please call King's Performance for any info - check MVP Motorsports' page on FB, as well as Jessica's page, for updates. There IS a reward, so if you're good at finding stolen property, give this a go.
Keep your eyes open for this car guys. It's probably half disassembled by now but worth a shot.
01-10-2013, 09:18 PM
Senior Member
Join Date: Apr 2011
Location: Churubusco, IN
Posts: 835
Likes: 0
Received 0 Likes on 0 Posts
Vehicle: 84 VW Rabbit, 01 Audi A8L, 08 VW GTI
---
They already found whats left of it, completely disassembled in a pile of unwanted parts... really sad such a nice car just abused like that for the parts.
01-11-2013, 08:14 AM
The Man!
---
I don't know about you guys, but if I had a car that so much time and money was put into, someone stole it, then called by the police to come identify parts they found.....it would feel like I walked into a murder scene behind a building seeing a bunch of the car parts laying on the ground like that.
01-11-2013, 09:23 AM
Administrator
Join Date: Oct 2002
Location: ɯooɹpǝq ɹnoʎ
Posts: 13,943
Likes: 0
Received 0 Likes on 0 Posts
Vehicle: ǝdnoɔ sısǝuǝƃ
---
I agree, and I'd be pressing hard for fingerprints or anything that could identify the people who stole it. They stripped that sh*t down to nothing
01-11-2013, 04:58 PM
Senior Member
Join Date: Mar 2008
Location: Canada
Posts: 1,682
Likes: 0
Received 0 Likes on 0 Posts
Vehicle: 1991 Impulse RS
---
Why was it parked outside overnight? My 04 Accent is ALWAYS in my garage if I'm not driving it. And it's an 04 Accent!
Can't say I'm surprised to hear what happened to it. But it still sucks!