DIY: Solved! Car Won't Take Gasoline/Won't Fill Fast/Fills Slowly At Gas Pump
06-04-2011, 11:01 PM
Super Moderator
DIY: Solved! Car Won't Take Gasoline/Won't Fill Fast/Fills Slowly At Gas Pump
---
If your car will only take gas as slowly as the pump can possibly dispense fuel, this is for you. Applies to all Hyundai RD platform cars (1997-2001 Tiburon, 1996-2000 Elantra)
Time required: Maybe an hour if you're slow
Tools required:
Splash-resistant goggles (the kind that cover the sides of your eyes)
3/8" ratchet (6" of extensions are nice to have)
12mm socket
10mm socket
Tiny and big flat-head screwdrivers
Pliers
1/4 or less tank of gas (so you can test the repair when you're done by filling up)
Tools nice to have:
Ohmmeter
Test leads to connect battery to solenoids
Parts you may need:
Canister Close Valve and/or EVAP Purge Control Valve, each <$50 on eBay
Fuel-rated hose if you pissed off Murphy
Beer: Unless you drink faster than you work, you may have time for one but you'll be buzzed when you go fill up to test your work, so you might want to hold off. Especially if you're a speed demon with 15lbs. of weed in the cargo area, and have expired tags on the car.
When your car won't take gas at the pump, often it is one of these two problems. I was happy I looked at both because I had problems at both ends.
Edit/update: it was the charcoal migrating from the canister and clogging pipes, and a jammed canister close valve, see post #8 and #9 below
The EVAP canister is under the driver's side of your car, behind the rear wheel, in front of the bumper. If you have a lift or ramps, go ahead and use them if you want. This is a job I could do without so much as breaking out the jack and stands.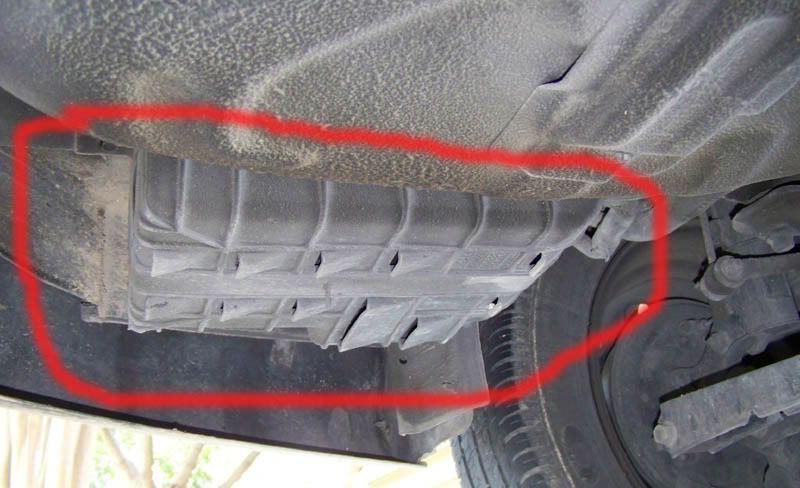 You are going to be working overhead. Seriously with the goggles. You'll drop at least a little dirt and road grime on your head. Spare your eyes.
The canister lives in a little bucket held up by a metal strap. The strap is secured by a bolt in back and a nut up front. Undo both, and undo the spring clips on both the hoses.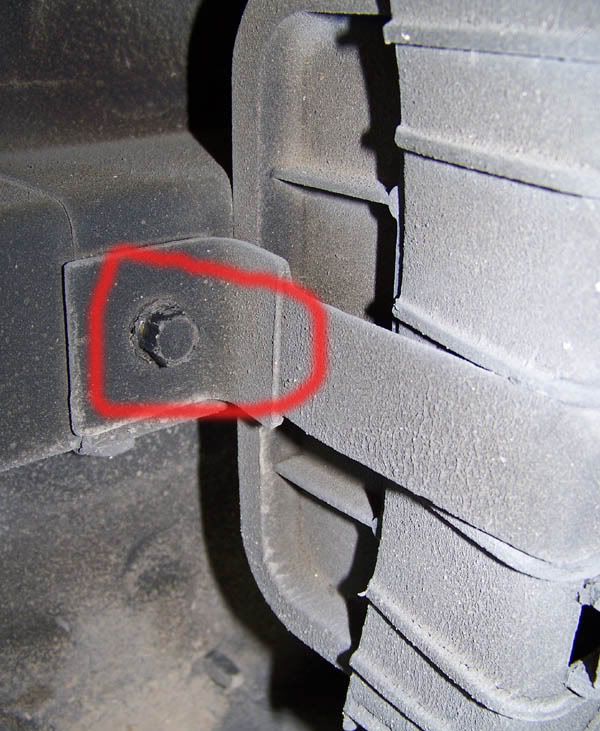 I noticed the big hose was crunchy.
Uh-oh.
I pulled the bucket down and look what came spraying out: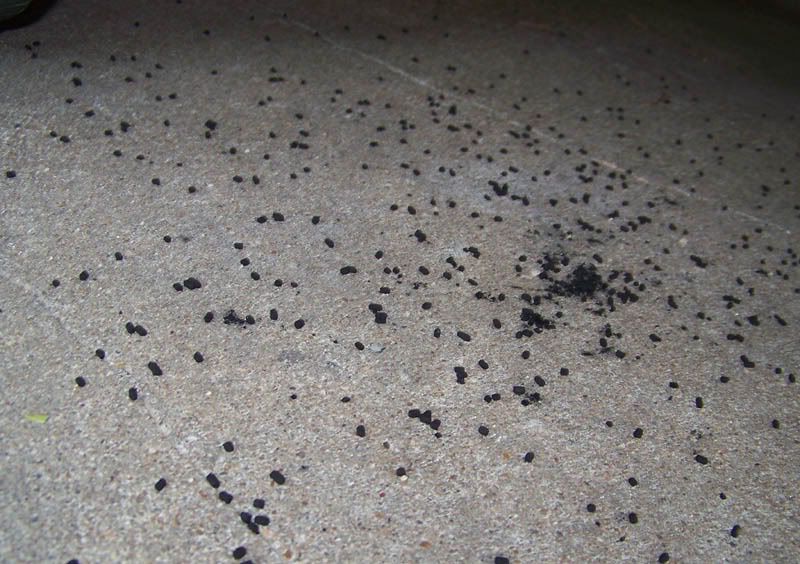 Seriously with the goggles. This is gasoline-soaked charcoal. It is stanky. Do this outside or have a catch basin handy. This was filling up a couple of inches of the big hard pipe into the the gas tank. The charcoal should all stay in the canister. I think there should be a screen of some sort in there, but it's gone now.
Don't just drop the EVAP canister bucket. It has an electrical cable to disconnect also: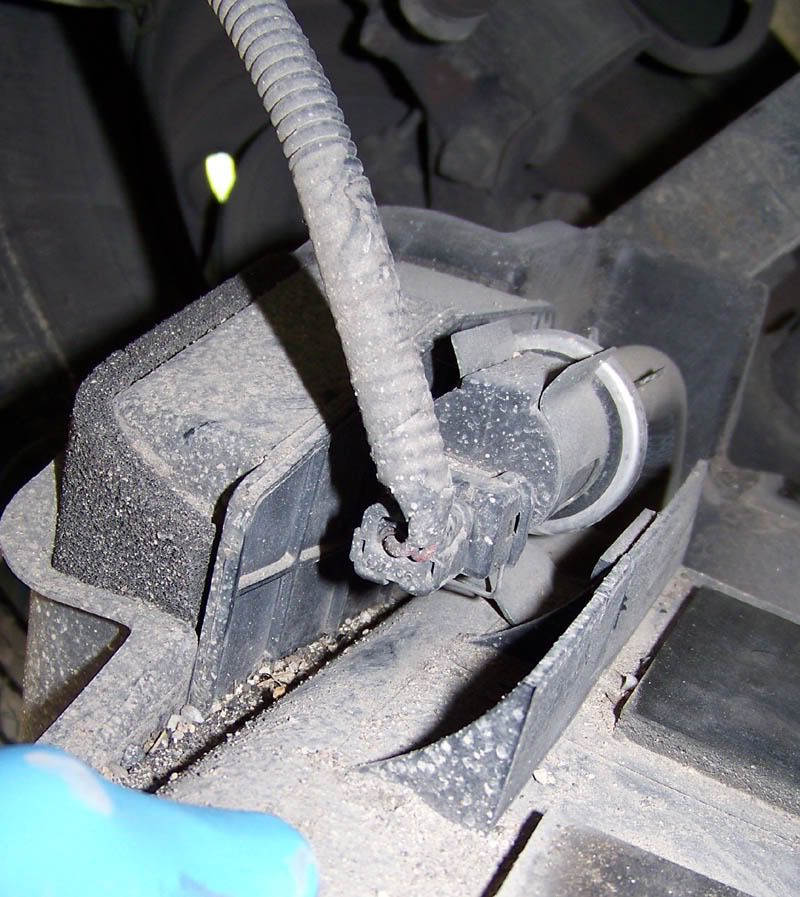 Use the tiny screwdriver to prize off the little spring clip and the big screwdriver to pry off the connector. The bucket holds the EVAP charcoal canister, an air filter, and the Canister Close Valve as well as a couple of hoses. Nothing holds these parts in place but gravity, friction, and the attached hoses. Pull.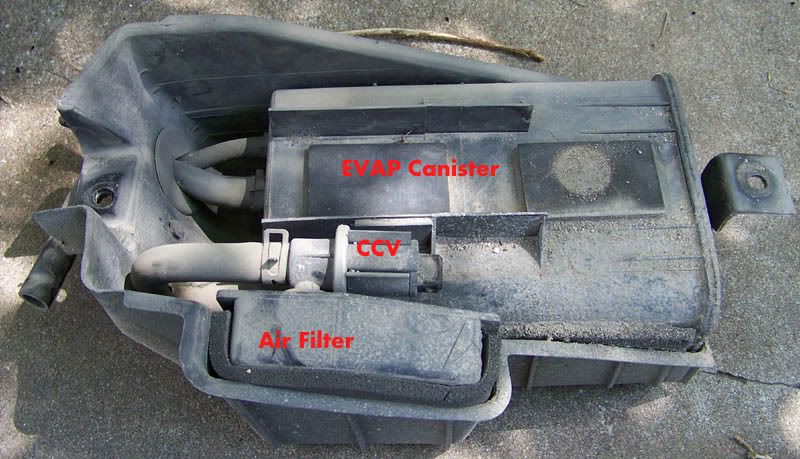 The only non-captive nut/bolt combination on your whole car is right here. One side is a litle springloaded with washers, but once the nut is off it'll fall. To make up for it, the CCV is SUPER tight in its grommet and bracket and you'll really have to pull to get the assembly separated.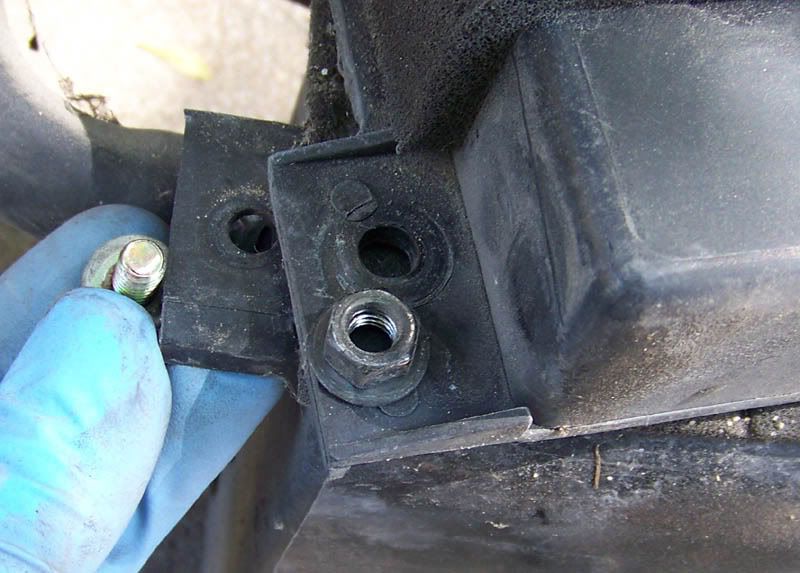 The metal contacts take 12 Volts. It's an open/close valve, not too complicated. These do fail sometimes, and
they throw a CEL
. Make sure it opens/closes and/or replace it as necessary.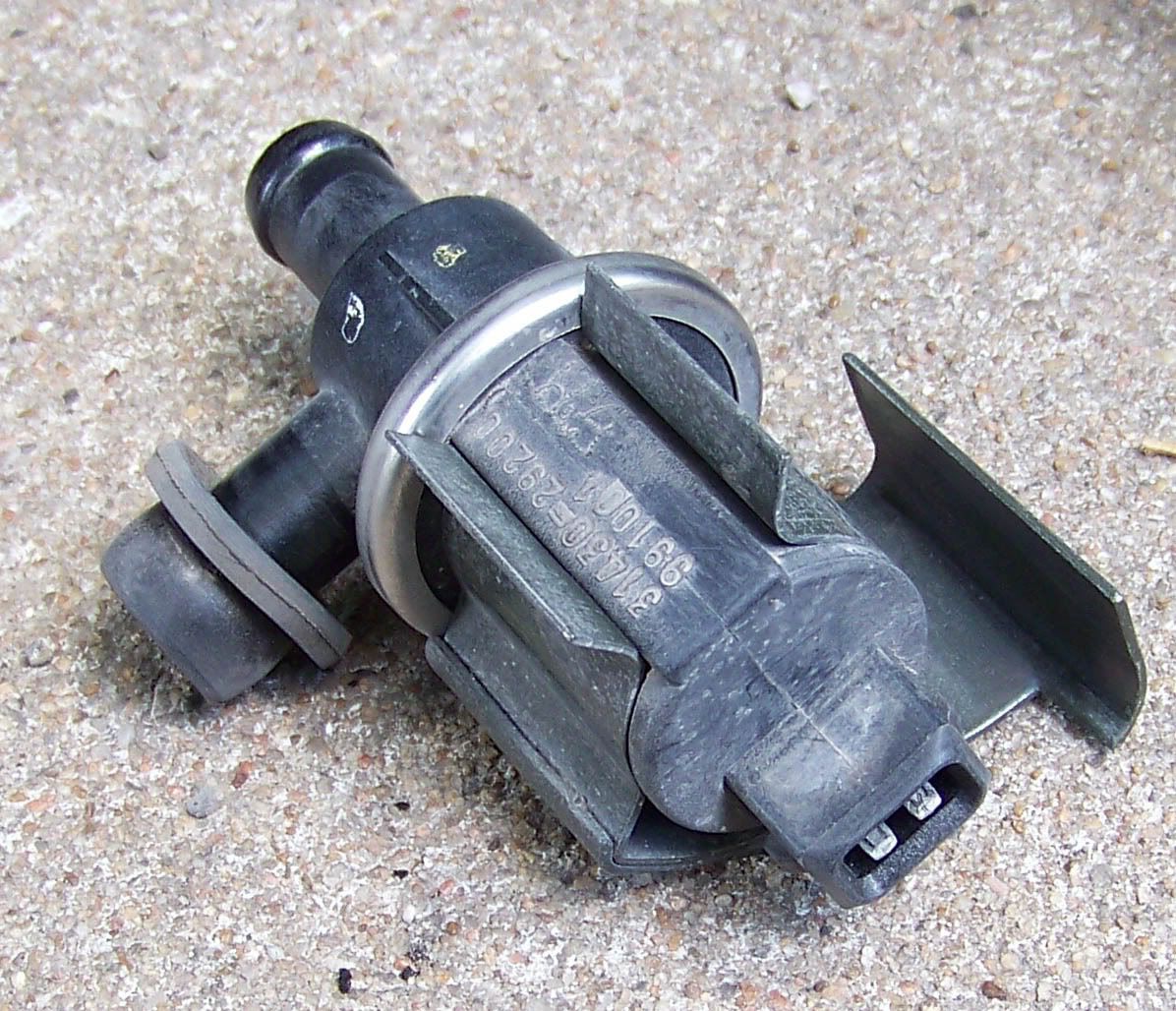 I stood the charcoal canister hose-end up and tapped it on the ground until the charcoal settled into the can again. I tapped the air filter also and blew in from the CCV hole and made sure it was clear. Tap the metal pipe and make sure all the charcoal is out of it. Assembly is the reverse of disassembly. Just remember to replace the spring clamps on the hoses. No sweat right?
We saved the sweat for the other end of the car. You are going to be here: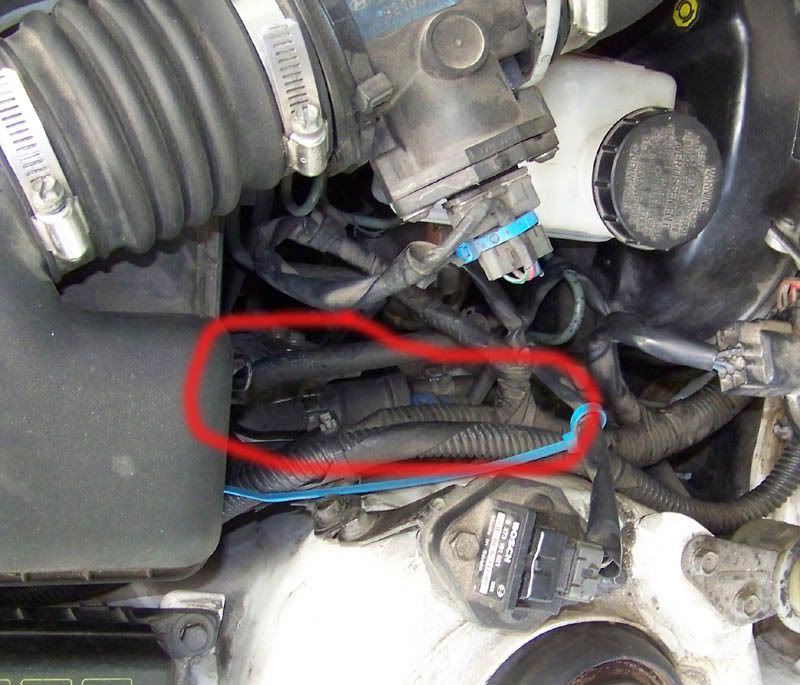 For this: The EVAP canister purge control solenoid valve, also called a two-way valve (compared to a check valve or the four-way valve on some other cars) These fail and sometimes DON'T throw a CEL.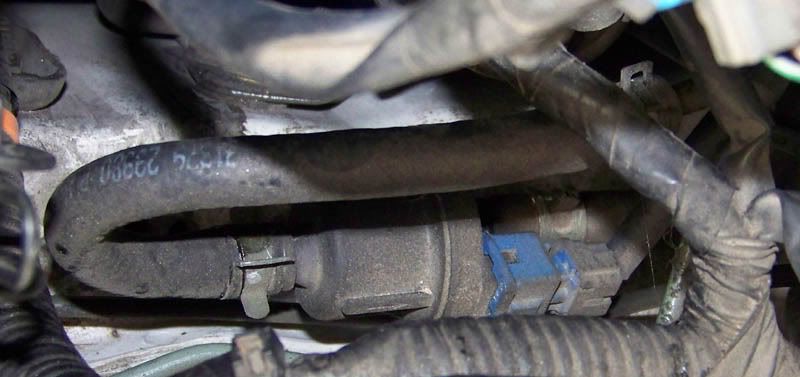 You need to remove the air filter box top and bottom, unless you have super small hands and double jointed elbows. BE CAREFUL not to rip off the Intake Air Temperature sensor from the side of the air filter box, or you'll be replacing that also.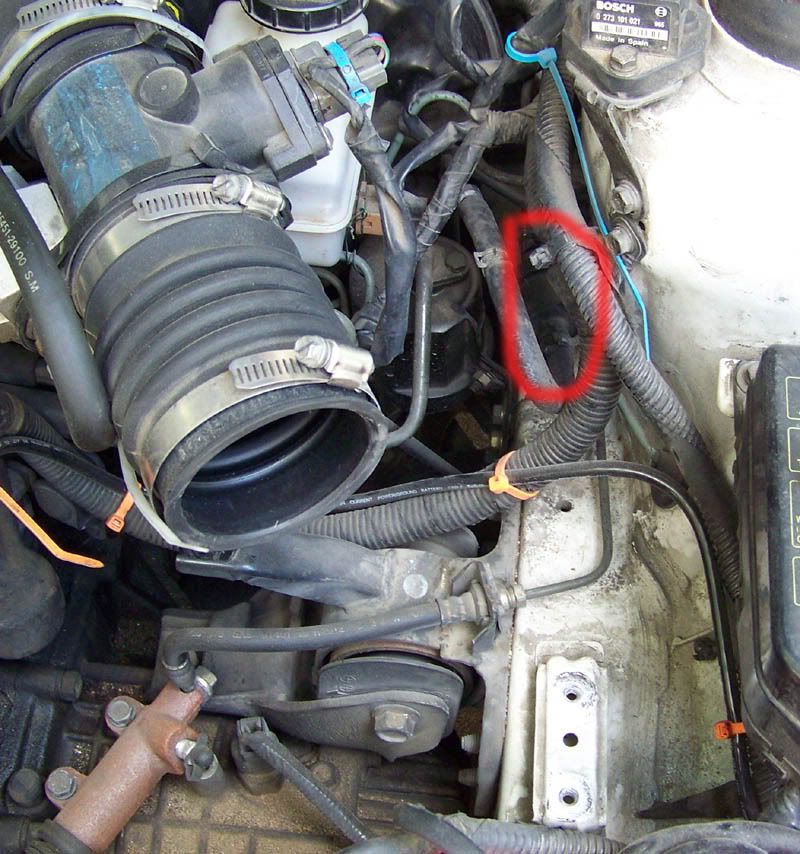 I thought it would be easier to pull off the top loop of hose with the valve, and it's a good thing I did. The hose was cracking. I cut off 1/2" from each end of the hose and slapped it back in place - it's only cracked on the outside for now and I'm fresh out of fuel line hose.
This is another spring clamps-and-clip on connector affair, but you can't get your fingers in there very well. Work the valve out of its hidey hole and test it. It should pass air in both directions when opened, not when closed. It should measure 26 ohms across the coil. I didn't find a resistance specification for the CCV's coil but this one is more likely to fail from heat, being in the engine bay. Mine was 28 ohms on the one I pulled and 25.6 ohms on the one I put in. They both seemed to open/close fine, and I'm not sure if the extra 2 ohms is too much.
A note about the hoses on your EVAP system: they will all crack and fall apart eventually. Your Check Engine light may actually mean you need to replace every piece of rubber in this system. Have fun. Most of it can be replaced with standard fuel-rated rubber hose.
One of these two repairs let my car resume taking gasoline as fast as the pump could dispense it. I don't really know which it was (or care much as long as it continues to work for another twelve years, in which case I hope it was the charcoal migrating up the pipe, because that's free to fix! )
Discussion about this problem
here
and
here
Special note about "Rev. A" Tiburons made in 1997: sucks to be you. Instead of under your back bumper, the EVAP canister is inside your drivers front fender where the filter for your cold air intake should go.
Go fill up your gas tank at the local petrol station and :biggrin: if it worked. If not, Hyundaitechinfo.com has more in-depth troubleshooting in the SHOP > Emissions Control System > Evaporative Emission Control System > section
06-06-2011, 05:41 PM
Senior Member
Join Date: Jan 2009
Location: Iowa
Posts: 428
Likes: 0
Received 0 Likes on 0 Posts
Vehicle: 1997/Hyundai/Tiburon
---
Maybe I'm going off topic with this.



Rather then emissions what would the disadvantages be to removing the entire charcoal canister from the car and replacing it with a check valve set up? Just throwing it out there for discussion.
06-07-2011, 12:48 PM
Super Moderator
---
As long as you don't make a permanent check engine light, there's no real downside BUT emissions. You may catch a whiff of gas vapors like at old-school gas stations before the new vapor recovery pumps, and you may theoretically lose a few drops of gasoline with a normal fillup. If you overfill, I want to say the liquid gas goes into the charcoal (NOT sure on that) so you'd be pouring gas on the ground = dangerous + losing money.
06-07-2011, 05:44 PM
Senior Member
Join Date: Jan 2009
Location: Iowa
Posts: 428
Likes: 0
Received 0 Likes on 0 Posts
Vehicle: 1997/Hyundai/Tiburon
---
I removed mine about 80k miles ago and didn't get a CEL from the removal. Never had the gas pump not shutoff and pour down the side of my car. Also never had any smell of gas in the car while driving or after filling, beyond the normal.



I would not recommend removal of the canister unless you need it moved, or it has gone bad. I removed mine because I have a Rev A and it was in the way.



Sorry to hijack the thread with this off topic. But great DIY.
06-11-2011, 07:27 AM
Senior Member
Join Date: Jan 2009
Location: Iowa
Posts: 428
Likes: 0
Received 0 Likes on 0 Posts
Vehicle: 1997/Hyundai/Tiburon
---
That would be correct.



But my daily Tiburon when I purchased it wouldn't ever take gas. So I would never put in more than 3/4 tank and ran some cleaner through it. Now it takes fuel without constantly clicking off but once in awhile it decide that the concrete needs a drink. But I'm too lazy to do anything about it.
09-02-2011, 11:48 PM
Super Moderator
---
This problem got slowly worse and worse again and finally it wouldn't even take gas as slowly as a pump can dispense fuel. I pulled the charcoal canister and again the big line was clogged with charcoal. I dumped out 1.6 pounds of charcoal from the canister into a big bucket (that's all that was in there) and reinstalled the canister. With NO charcoal in there it has taken two full tanks just as fast as the pump can give out the gasoline. I noted the presence of several small chunks of disintegrated foam in with the charcoal - probably this was used to keep the foam out of the pipe.
When I get a spare hour or three I may figure a way to get the charcoal to stay in the canister and get the system back to stock. I don't like the idea of wasting gasoline, even just the vapors in the tank. For now, it takes gas again and that's enough.
11-15-2011, 09:55 PM
Super Moderator
---
I guess I forgot to disconnect the hose to the Canister Close Valve when I was shaking the charcoal out of the canister. This again very very slowly got worse, then finally the last few trips to the gas station it wouldn't take gas AGAIN and then it set a Check Engine light.



P0442 called out (in this case) a small leak in the EVAP system. When I was shaking the carbon out of the canister, I guess the stuff that was left behind was somehow stuck near the CCV vent hose. I wouldn't have thought the system was so sensitive but apparently it is: when the hose between the canister and the canister close valve is packed full of charcoal, it won't take gas at the pump. Just like when the line between the canister and the fuel tank is full of charcoal. So. I removed the hose from the canister and carbon started streaming out. It poured out WAY more than I thought was left in the canister.



There was also carbon in the valve, including one little chunk on the valve seat preventing a seal (the "small leak" according to my car's OBDII system). It is a normally-open valve, but it would not seal with power applied. I used a bench power supply to provide power and actuated the valve several times, using an allen key to loosen the carbon chunk and lung power to blow it clear. The little chunk of carbon popped out and then the valve would close.



A couple days later, the Check Engine light went out, and tonight it took gas as fast as the fuel pump would dispense fuel. I still intend to get a fine mesh bag for the charcoal and refill the canister, but for now it at least works again.
11-15-2011, 11:22 PM
Senior Member
Join Date: Dec 2008
Location: Floating around the AUDM
Posts: 3,837
Likes: 0
Received 0 Likes on 0 Posts
Vehicle: X3 Sprint, S-Coupe Turbo
---
Dayum. I've never heard of this being a problem. Admittedly, my brother's old J2 wagon used to be a pain to fill up. I like the idea of the mesh bag though.



Just to clarify, are your lines clogged with the remnants of the charcoal? Or are these fresh carbon deposits?