HyundaiKitCoupe :

(20 May 2018 - 07:02 PM)

Posted a new topic -- 2000 Elantra Wagon Hatch Parts in Wanted
Armenia11 :

(20 May 2018 - 06:02 PM)

Posted a new topic -- Tint and license plate frames in Automotive News & Other Vehicle Discussions
Bluetib4life :

(20 May 2018 - 05:56 PM)

Posted a new topic -- The Royal Wedding in Off Topic Cafe
boyracer :

(20 May 2018 - 05:50 PM)

Posted a new topic -- Subwoofer for home theater in Off Topic Cafe
Stocker :

(18 May 2018 - 09:18 PM)

Posted a new topic -- SUPER DUPER annoying MAF high reading in HELP Forum
Hyundai News... :

(18 May 2018 - 01:42 PM)

Posted a new topic -- Welcome To Hyundai Aftermarket.org: Forum Alert in Introduction
Hyundai News... :

(18 May 2018 - 01:42 PM)

Welcome to the forums Forum Alert
Visionz :

(18 May 2018 - 01:37 PM)

Posted a new topic -- And another one in Off Topic Cafe
Sharkrider :

(17 May 2018 - 05:20 PM)

Posted a new topic -- American Airlines bans emotional support insects, goats, hedgehogs, and more in Off Topic Cafe
Airborne :

(17 May 2018 - 05:15 PM)

Posted a new topic -- They're making another Bill & Tedds Adventure in Photography, TV, Music, Art, & Culture
HyundaiKitCoupe :

(17 May 2018 - 04:36 PM)

The Beta 1 engine lifespan is about 200,000miles, transmission is about 150,000-180,000 miles if you drive easy.
HyundaiKitCoupe :

(17 May 2018 - 04:35 PM)

Well my Elantra Wagon needs a new engine. Engine is running great but it's clearly burning oil. White smoke all over the place.....
mYu :

(15 May 2018 - 11:56 AM)

Posted a new topic -- Bohemian Rhapsody in Photography, TV, Music, Art, & Culture
WRC_Accent :

(15 May 2018 - 11:49 AM)

Posted a new topic -- Nevada police find wrecked $300,000 McLaren supercar in the desert in Off Topic Cafe
JonGTR :

(15 May 2018 - 07:07 AM)

Posted a new topic -- Help me build/chose a desktop? in Computers, Gaming, & Technology
350 horsepow... :

(14 May 2018 - 06:22 PM)

Posted a new topic -- Anyone using Hoosier drag radials? in Hyundai Genesis Forum
hawk :

(14 May 2018 - 06:18 PM)

Posted a new topic -- Intake tube sizes in Engine, Intake, Exhaust
Gambit :

(14 May 2018 - 06:16 PM)

Posted a new topic -- Gateways Computers in Computers, Gaming, & Technology
demonicgenesis :

(14 May 2018 - 06:14 PM)

Posted a new topic -- Checking DNA on sites like Ancestry in Off Topic Cafe
Visionz :

(13 May 2018 - 06:15 PM)

Posted a new topic -- Snapped a few pics tonight.... in Vehicle Showroom
04 January 2011
Leave Comment
I have a Rovio Mobile webcam. It is a pretty cool toy. However it's lighting is not nearly bright enough. I trippled the light by adding a copule of LEDs to it. Here's how I did it.
This is my rovio disassembled. You can see the circuit board which is glued in place there. It takes the original lighting circuit and draws power from a separate source. It's a transistor which is hooked directly to the battery and uses the original LED power wire as a signal wire. The new wire is routed up the neck of the Rovio Mobile webcam.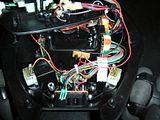 Here you can see a side profile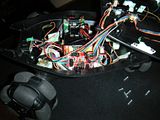 And the other side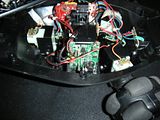 Here is a closeup of the small transistor circuit board.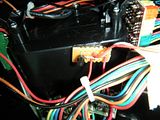 The LEDs were positioned in the head right where they should be, on either side of the webcam.
Profile shot, put back together
Neck extended:
Here you can see my phone controlling the Rovio and a picture of my hands holding the camera on the phone, controlling my rovio mobile camera.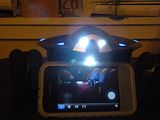 It was a fun project.
0 Comments On This Entry
Trackbacks for this entry [ Trackback URL ]
0 user(s) viewing
0 Guests
0 member(s)
0 anonymous member(s)